Posted on February 8th, 2023 by International Student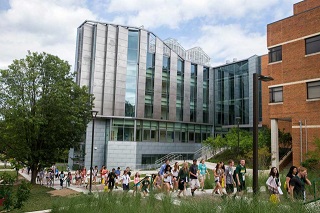 Located in the heart of Northern Virginia's technology corridor, George Mason University is just 20 miles from Washington, D.C. This ideal location provides easy access for internships and other job opportunities with the federal government and top private sector employers.
George Mason University is a great choice if you are an international student looking to study in the United States. With friendly and welcoming staff, you will find all the help and support you need – and that's just one of the benefits. Let's dive into the services for international students at George Mason University and how students can make the most of their time while earning their education.
How Can the International Student Services at George Mason Help?
The Office of International Programs and Services (OIPS) helps students with all of their student needs, from the moment they arrive on campus until the day they graduate. To give you an idea, here are just a few key items they can help you with:
1. Visa and non-immigration paperwork
One of the most confusing things for international students is understanding and completing the required paperwork to study abroad.
The OIPS can help with that! They will guide you through the process and make sure everything is in order.
2. Advice and help with cultural and procedural topics
The transition from living in one country to another can be tough. The OIPS understands this and can offer advice on everything from how to open a bank account, to navigating the U.S. healthcare system to finding an apartment.
3. Social and cultural programs
During the Fall and Spring semesters, the OIPS offers a variety of programs and events for international students.
From movie nights to trips to New York City, there is something for everyone. These events are a great way to meet other international students and learn more about American culture.
4. International student counseling
The OIPS also offers counseling services for international students. If you're struggling with homesickness, adjusting to life in the United States, or anything else, they can help.
These services are confidential and free of charge. You won't be left behind and feel alone when you have the OIPS in your corner.
5. OIPS self-service center
The OIPS self-service center is designed to help you through complicated administrative processes by providing checklists, forms, workshop log-in instructions, and processing times.
In addition, the tools they're able to provide will guide you in understanding important immigration regulations and benefits.
6. Employment workshops
These workshops are designed to help international students learn about the American job market and how to search for jobs. They will also cover resume writing, interview skills, and networking.
These workshops are offered throughout the year and are a great way to prepare for your career after graduation.
Continue Exploring George Mason University
As an international student, you may feel like you are in a different world when you first arrive at George Mason University. But don't worry, there are plenty of resources and support available to help you adjust to life in the United States and make the most of your time here.
No Responses to "Services for International Students at George Mason University"
Leave a Reply