Posted on February 1st, 2023 by Bryanna Davis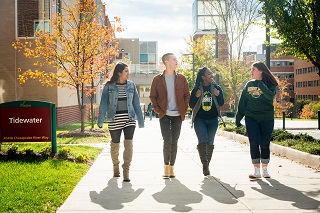 Studying in Virginia as an international student can be a great experience. Virginia is a well-known state for its high-quality education, including a variety of programs and facilities, and many international students choose it as their location of study for that reason.
In this article, we'll take a closer look at why studying in Virginia can be an enriching experience for international students.
Studying in Virginia as an International Student
If you're thinking of studying in the United States as an international student, then you should consider Virginia as one of your top options.
Virginia is a great option for international students because of the high-quality education that many of the state's colleges and universities are able to offer. From bachelor's degrees to doctorate programs, you will be able to find a highly-rated courses that suit your needs, interests and budget.
Another reason to study in Virginia is the state's diverse population where you can meet people from around the world. This diversity can be a great way to broaden your horizons, learn about new cultures and make new friends from all over the globe.
One final advantage of studying in Virginia is the state's location. Virginia is situated on the east coast of the United States, just minutes from Washington, D.C. making it a prime location for students who want to study politics, history, or international relations. Plus, you can also enjoy the beautiful beaches that Virginia has to offer! The Virginia Beach coastline can be a great place to relax and unwind on the weekends.
Explore George Mason University
So, there you have it! Virginia is not just a great place to study in the United States, but it is also a great place to live. The state has a lot to offer in terms of education, diversity, and location. If you are an international student considering studying in the United States, then Virginia should be at the top of your list of options.
One popular choice for international students to consider is George Mason University.
George Mason University is located in the city of Fairfax, and is one of the largest public universities in the United States. The university has a global reputation and it is known for its excellent programs in business, law, education, and more. If you are an international student, you will find all the guidance and resources you need to be comfortable and succeed in your studies at George Mason University.