Posted on January 30th, 2023 by Bryanna Davis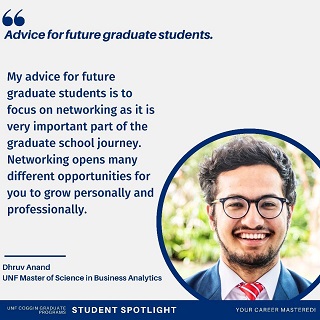 The Coggin College of Business at the University of North Florida is an excellent choice for students seeking to further their education in business and management.
With a focus on experiential learning, high-quality faculty members, and state-of-the-art facilities, the college provides a comprehensive education that prepares graduates to excel in today's competitive global economy.
Let's learn more about the Coggin College of Business and why students choose to pursue their education there.
1. Prime Location
Located in Jacksonville, Fla., it's conveniently close to the area's major metropolitan centers.
Students will have easy access to nearby businesses and organizations where they can gain real-world experience through OPT or CPT.
In addition, the college's proximity to other universities and colleges in the region provides students with a wide range of networking opportunities.
2. Educational Excellence
The Coggin College of Business is accredited by the Association to Advance Collegiate Schools of Business (AACSB), a distinction earned by fewer than five percent of business schools worldwide.
Their faculty consists of award-winning, experienced professionals who are experts in their field and provide students with an exceptional educational experience.
Here are some of the top courses that students can pursue at the Coggin College of Business:
MBA (with 11 concentrations)
Master of Science in Management (MSM)
Master of Science in Business Analytics (MSBA)
Master of Science in Logistics and Supply Chain Management (MSLSCM)
Master of Accountancy (MAcc)
Global MBA
3. Faculty and Support
At the Coggin College of Business, students have access to a wide range of resources and support.
The college provides career services, mentoring programs, and other resources to help students find success in their chosen fields.
In addition, the faculty is committed to helping every student succeed. Faculty members are active in research and industry partnerships, and they regularly offer guidance to students in the form of mentoring, teaching, and coaching.
4. Student Security
The Coggin College of Business has a strong commitment to student safety and security.
The college offers 24-hour campus security and has established protocols for responding to any potential threat or issue.
The college is also committed to providing students with a safe and secure learning environment that allows them the freedom to pursue their educational goals without worry.
5. Exciting Campus Life
UNF Coggin is a home away from home for international students. From day one, you'll be connected to Coggin's global network of students and alumni committed to helping you make the most of your time on campus and beyond. Here's what to expect on campus:
The Global Ospreys Peer Mentor Program: First-year international students can connect with a mentor who's been at UNF for at least a year, helping you get to know your new school and community.
The International Ospreys Club: The International Ospreys Club helps increase diversity and cultural sharing on campus by connecting globally-minded students to the traditions of international students.
Community Outreach: The International Ospreys Club hosts 1-3 volunteer trips per semester to connect international students with local issues impacting the Jacksonville community, opening a meaningful dialogue in the process. They work with local organizations like Feeding Northeast Florida, the Jacksonville Humane Society, and Nassau County Animal Services.
6. International Student Support
The University of North Florida's Coggin College of Business makes the international student experience seamless and stress-free, with a wide range of on-campus resources designed to meet their unique needs. Here are just a few resources:
The International Center: The International Center (IC) connects international students to support, information, programs, and other students to foster connection and understanding on campus and in our community. The IC also offers visa and immigration support, with trained officers on staff to get your questions answered.
Career Management Center: UNF provides individualized services to help international students advance their career. They offer everything from resume review, networking opportunities, mock interviews, so UNF students graduate ready to compete for the best positions.
Wellness Center: Taking care of your physical health while studying abroad is a great way to stay focused – and healthy! UNF's Wellness Center provides extensive indoor facilities and classes for all interests and abilities.
Explore the University of North Florida Coggin College of Business
The UNF Coggin College of Business is a great college that has all the necessary elements for a successful educational experience – from top-notch faculty to vibrant campus life. These are some of the many reasons why the Coggin College of Business is an ideal choice for any student looking to pursue a business degree.