Posted on August 28th, 2022 by Bryanna Davis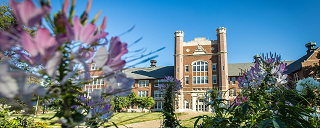 If you are planning to study in the United States, Missouri is a great state to consider. Missouri is known for its hospitality and diverse population. Even the atmosphere in Missouri is unique, as it is located in the Midwestern region of the United States so you can experience all four seasons.
Let's find out more about Missouri and why it's a great place to study!
Studying in Missouri
Missouri is located in the Midwestern region of the United States and it's bordered by 8 other states. The state is known for its diverse population, hospitality, and beautiful scenery.
The climate in Missouri will vary depending on what part of the state you are in, and what time of year it is. However, generally speaking, the state experiences four distinct seasons.
Approximately 6 million people are living in Missouri, with the population density being about 87 people per square mile. The two largest cities in terms of population are Kansas City and St. Louis.
Missouri is a multicultural state, with people from various backgrounds and communities. In terms of post-secondary education, there are more than 100 colleges and universities located in Missouri.
Why study in Missouri?
When it comes to choosing a university, there are many factors to consider such as
Location
Course offerings
Campus life
Cost of living
When evaluating these items, you'll certainly want to take Missouri into consideration as it's often a hidden gem. Missouri is a great state to study in for many reasons. The cost of living in Missouri is relatively low when compared to other states such as California or New York. In addition, Missouri colleges and universities offer a variety of courses and programs that are sure to interest any student.
From a warm welcoming environment to thousands of things to explore, Missouri has everything an international student needs to have an enjoyable and successful university experience.
Universities in Missouri
There are many universities located in Missouri to choose from, and one that we suggest you begin your search with is Northwest Missouri State University.
This public university was founded in 1905 and is located in Maryville, Missouri. The university has an enrollment of more than 6,000 students, with students coming from all 50 states and more than 60 countries.
The university was ranked 24th as the top public school in the Midwest. With over 160+ degree programs, the university provides students with plenty of options to choose from.
If you are an international student, you will find that the university has a very diverse student body and community. You will also be able to find many resources and support systems in place to help you succeed during your time at Northwest Missouri State University.
The Northwest Missouri State University campus is known as one of the safest and most beautiful in the nation. Plus, more than 96% of students who attend Northwest Missouri State University found well-salaried and meaningful employment or entered graduate school within six months of graduation.
Northwest Missouri State University also offers scholarships and grants to help make your education more affordable.
Explore Missouri
Missouri is a great state to consider if you are looking to study in the United States. The state has a lot to offer in terms of diversity, culture, and education. When exploring where to study in the US – explore Missouri.
2 Responses to "Studying in Missouri as an International Student"
Manuel Sampaio Says:
September 12th, 2022 at 10:51 am

Hi
good morning, I'm researching universities to do a postgraduate degree in project management and I found your institution very interesting, I would like to know more and especially in terms of support for international students
Best regards
Manuel Sampaio
Luanda – Angola

Bryanna Davis Says:
September 30th, 2022 at 3:26 pm

Thanks for your interest! To learn more about this school you can visit here. Good luck!
Leave a Reply