Posted on February 14th, 2022 by Connor Blay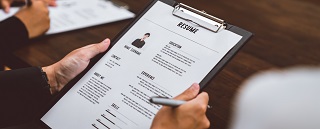 It may not seem like it because of the amount of peer pressure placed on students, however, it is far from uncommon for college students to begin their educational journey with a blank resume. Part of the reason many students decide to attend a college or university is to gain access to various opportunities available on and off campus. With F-1 and J-1 visa restrictions, you might be wondering how you can even start gaining experience to put on your resume. In this blog, we'll give you five ways to start building on your resume.
1. Find On-Campus Work
On-campus jobs are the most accessible to international students as they do not require USCIS approval, in most cases. However, it is important to remember that you must follow the following rules:
You must maintain valid F1 status
You can work up to 20 hours per week while school is in session
You can work full-time on campus during holidays and vacation periods if you intend to register for the next academic semester
The employment may not displace (take a job away from) a U.S. resident
Oftentimes, colleges and universities have job portals that will allow you to find on-campus job listings. We recommend first using this resource, if it is available to you. If your school does not provide this resource or you require additional assistance, we recommend that you reach out to an advisor. Examples of on-campus jobs could include library assistant, tech support, cafe barista, food court employee, etc.
2. Find an Internship
Internship opportunities are often available on college and university campuses. However, these opportunities are limited and it's also a good idea to explore options off-campus. Keep in mind that off-campus work requires USCIS approval. We recommend only applying for internships that are related to your field of study as this is the best way to build on your resume.
3. CPT Work
While completing your degree program, you have the option to participate in CPT work. CPT must be a part of your curriculum or academic program and can be an internship, cooperative education, or any other type of required internship or practicum that is offered by sponsoring employers through cooperative agreements with the school. Even though this type of work is for academic credit, you can get paid and it is great to include on your resume.
4. OPT Work
During or after completion of your degree program, you may participate in OPT work. OPT work must be directly related to your field of study, however, in contrast to CPT work, OPT work is not for course credit. OPT work is specifically designed to help you gain experience in your chosen industry. Students may apply for OPT after being enrolled for at least 9 months and may not begin working before receiving an Employment Authorization Document (EAD) from USCIS.
Now that you have the information about your options, it's time to start thinking about building your resume. For more information on how to craft your resume, visit the career center on your campus and be sure to check out our resume samples.
One Response to "4 Resume Building Options for International Students"
veena reddy Says:
August 24th, 2022 at 10:38 am

It is important that one tries to keep building their resume from time to time. Doing internships and gaining experience from time-to-time is necessary to keep practicing skills and make ourselves better.
Leave a Reply