Posted on October 30th, 2020 by Connor Blay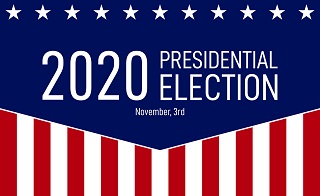 By now, you're probably already well-aware of the fact that the US is preparing for arguably one of the most important elections in the nation's history. This time next week, we will likely know for certain if Donald J. Trump will serve a second presidential term or if Joe Biden will become the 46th president of the United States. If you plan on watching any of the election coverage, here are answers to a few common questions about how the election works.
Who Can Vote?
Generally, citizens of the US who are 18 or older are allowed to vote in presidential elections. Non-citizens such as visa holders, lawful permanent residents or Green Card holders are not allowed to vote.
What is on the Ballot?
While it is widely known that the US has two major political parties, Republican and Democrat, it may come as a surprise to some that there are five other parties on the ballot this election. These parties, referred to as third-parties, are: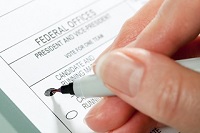 Constitution Party
Green Party
Libertarian Party
Party for Socialism and Liberation
Reform Party
Third-party candidates typically do not have chance of winning against the two major parties, however, they can greatly impact the outcome of the election if they receive enough votes.
In addition to voting for president, voters will be selecting candidates to fill seats in the House of Representatives and, in several states, the Senate. All 435 seats in the House of Representatives and 35 of the 100 seats in the Senate are up for grabs. The House of Representatives, often referred to as "The House", and the Senate are the two pieces of the legislative branch of the US government. These are the elected officials that draft proposed laws called bills. If a bill successfully passes through The House, the Senate and the president, it becomes a law. This piece of the ballot is important to this election because Republicans currently hold the majority in the Senate and Democrats currently hold the majority of The House. Either one of these or both could change or as you'll often hear "flip" after this election. This means that the opposite party will hold the majority and, in turn, the power in that chamber of Congress.
Also on the ballot will be some local elected positions and amendments. For example, in our home state of Florida, the ballot includes six proposed amendments to be added to the state's Constitution. Each state has its own unique constitution and voters in every state vote on different amendments and revisions to existing amendments.
How is the Winner Determined?
If you followed the 2016 election, you learned that the winner of the popular vote in presidential elections doesn't always emerge victorious. Why is this? Because the US uses a unique system to determine which candidate wins. The electoral college, a group of representatives of all 50 states who vote for the president and vice president based on the popular vote in their respective state, controls the outcome of presidential elections. There are 538 total electoral votes available and the amount of electoral votes needed to win the presidency is 270.
Each state has a different amount of electoral votes and 48 states practice a "winner-takes-all" rule in which the candidate who wins the popular vote wins all of the state's available electoral votes. Nebraska and Maine do not use the winner-takes-all rule and the electoral votes can be split based on which candidate wins each congressional district.
The amount of electoral votes in a state is established by the state's population so states with a larger population like California hold the most weight. However, since California is known as a "blue" or mostly Democratic state, it's a safe assumption that Joe Biden will win its 55 electoral votes.
Another term you're likely hear often during election coverage is "battleground state". A battleground state is one that is known to be fairly evenly split between Republican and Democratic voters. For example, in Florida, there are a lot of rural counties with smaller populations that tend to vote Republican but counties with larger metropolitan areas and populations tend to vote Democrat. This leaves the two parties to battle it out for the most votes. Other battleground states to keep an eye on are:
Georgia
Iowa
North Carolina
Ohio
Texas
Arizona
Michigan
Minnesota
New Hampshire
Pennsylvania
Wisconsin
If I Can't Vote, What Can I Do?
If you are an international student in the US on a visa, you won't have the ability to vote in presidential elections. However, there are still a few ways you can get involved if you would like to: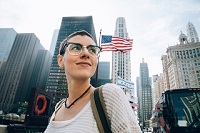 Pay attention – Watch what's happening as politics will affect you while you're living in the US.
Advocate for your preferred candidate – If you have a candidate you'd like to see win, then you can always show support and ask those who can vote to choose that candidate.
Make your voice heard – If there is a specific issue or set of issues that is important to you, don't hesitate to take action for change.
Volunteer for a political party – You can still get involved with a political party even if you don't have the ability to vote.
Join a political organization – There are countless organizations in support of both major political parties that are making a difference in the political process.
Now that you're a little more familiar with how the US election process works, you can show your friends what you know and follow news coverage with ease. Feel free to leave a comment to let us know how you'll be participating in the 2020 election!