Posted on June 4th, 2020 by Connor Blay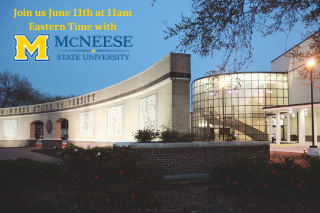 McNeese State University is a public university located in Lake Charles, Louisiana. McNeese is known for its inclusive and diverse campus which allows international students to grow and thrive. McNeese is also known for:
Its classification as a Carnegie Foundation Master's University
Its designation from U.S. News and World Report as a Tier One Regional University
Its accreditation from the Southern Association of Colleges and Schools
Next week on Thursday, June 11th at 11:00am Eastern Time, we will be joined on Facebook Live by McNeese Director of International Programs, Preble Girard. Preble will be interviewing two of McNeese's finest international student leaders, Andres Arias and Sarauv Sharma who are respectively the student body president and the student body treasurer on McNeese's campus. Leading the Student Government Association has given these two a unique experience that has shaped them into well-rounded individuals who are ready for anything the world throws at them. They'll be sharing how you too can take the lead at McNeese.
Don't miss this opportunity to learn more about leadership at McNeese and to ask any questions you may have about this outstanding university. Be sure to RSVP prior to the event and be on our Facebook page at least 5 minutes before the livestream begins. We hope you can join us!
Other Interesting Posts:
No Responses to "Facebook Live: Take the Lead at McNeese State University"
Leave a Reply