Posted on June 1st, 2020 by Luke Clausen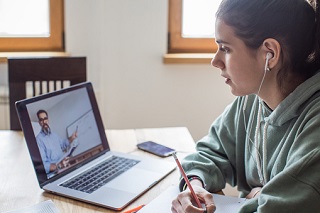 Many students have spent their entire academic lives developing strategies to help them focus and concentrate when doing their schoolwork, and rely on these strategies in order to reach their full academic potential. These strategies are often classroom-oriented, so for many students, using these strategies could be difficult in a different environment. While learning in an online environment will surely feel different than what you're used to, there are a number of ways that you can adjust to learning in this environment. Here's what you can do:
1. Communicate with your instructor
One important step to take when switching to online learning is setting up clear communication between you and your instructor. You are able to benefit much more from your instructor's help and advice when you've gotten to know each other. Getting to know your instructor in an online environment is going to be tougher since you won't see them on a regular basis. But making a connection with your instructor is essential to succeeding in the course and in the future. Some ways to make one-on-one contact with your instructor are:
Email
Video conferencing
Phone (call or text)
Student portal chats
Social media, most likely LinkedIn to keep it professional
Points of contact may vary depending on the instructor's preferences but generally, these are the top ways online instructors communicate with students. Communicating as frequently as possible is a great way to make yourself stand out among a large class. If you make a positive connection, you might even gain a reference out of it.
2. Familiarize yourself with your device(s)
There can be a major learning curve depending on how familiar a student is at using their technology. Some of the best students could end up performing poorly simply because of technical difficulties that they didn't predict. Be sure to take the time to learn about and get used to using your equipment, and learn about all the potential technical errors you could encounter.. Many online student portals and applications have a help center and a Frequently Asked Questions section that you can contact should you run into any major issues. And, as always, YouTube has helpful content from tech experts that you can refer to at any time. However, the best way to prepare yourself is through personal experience, so familiarize yourself with how your device and operating system works.
3. Designate Time to Learn and Hold Yourself Accountable
One of the hardest things about learning online is having the discipline to concentrate and get your work done. There are so many distractions on the internet, and it's all at your fingertips, so it can be easy to lose focus. In addition, there is no one to hold you accountable like there is in a classroom setting. Some people may like this freedom, but many people find it extremely difficult to hold themselves accountable for staying on task. There are a number of ways to introduce discipline into your academic life. One way is to designate blocks of time to schoolwork and reward yourself for not violating the conditions of this designated block. Another thing that may help is devoting certain areas of your house solely to schoolwork and research, and not allowing yourself to use the internet recreationally in these areas. If you still find yourself getting distracted too frequently, it might be a good idea to block these distracting websites from your browser. It may be difficult at first, but implementing these habits eventually pays off, and will make your online education experience much smoother and much more meaningful.
7 Responses to "Tips for Taking Classes Online"
Leave a Reply