Posted on May 27th, 2020 by Connor Blay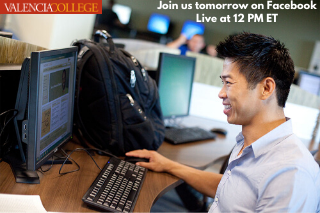 Just a friendly reminder that tomorrow at 12:00PM Eastern Time we will be on Facebook Live with our friends at Valencia College. International Student Recruitment Specialist, Daniela Garcia Laverde will join us to cover a number of topics such as:
COVID-19 accommodations
Valencia's admissions process
Scholarships
And more!
Again, that's tomorrow on the International Student Facebook page at 12:00pm Eastern Time. Daniela will also be walking through the application process, annual expenses, transfer credits, and more. Make sure to RSVP for the event and be on our Facebook page at least 5 minutes before the event starts at 12pm EDT. Also, check out Valencia's profile before attending and come with questions. Hope to see you there!
2 Responses to "Facebook Live: Discover Your Opportunities at Valencia College (Reminder)"
Engr. Umar Gulzar Says:
June 26th, 2020 at 11:51 pm

Thank you for the great information, I have found that your blog is providing great information for the students for their bright future. Is there any internship program offered by Facebook? to International students

Connor Blay Says:
June 29th, 2020 at 11:56 am

Hello Engr. Umar and thank you for reading! I don't have an answer to your question but I know that Facebook offers many internship programs around the world. I recommend checking out their careers website to browse through internship opportunities.
Leave a Reply