Posted on May 21st, 2020 by Connor Blay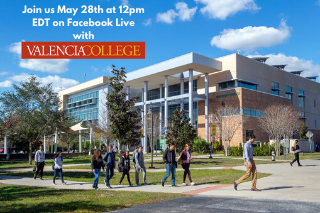 Valencia College in Orlando, Florida is a fully accredited community college that welcomes a number of international students each year. With more than 100 countries represented on its campuses and an International Student Services team there to help students through every step of their journey, international students are sure to enjoy calling Valencia home.
Next Thursday, May 28th at 12pm EDT, we will be on Facebook Live with Valencia International Student Recruitment Specialist, Daniela Garcia Laverde. She has an important message to share with you about COVID-19 accommodations provided by Valencia such as:
Accepting Duolingo English Test as proof of English proficiency
An extension to the application deadline
Live chat help on their website
Virtual Q&A sessions on Instagram @studyinorlandofl
More scholarship opportunities
She'll also be walking through the application process, annual expenses, transfer credits, and more. Make sure to RSVP for the event and be on our Facebook page at least 5 minutes before the event starts at 12pm EDT. Also, check out Valencia's profile before attending and come with questions. Hope to see you there!
No Responses to "Facebook Live: Discover Your Opportunities at Valencia College"
Leave a Reply