Posted on January 4th, 2019 by Phu Nguyen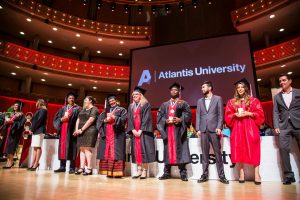 It's no secret that schools in Florida are very popular with international students. It's what many students seek – all the sunshine in the world while you study. This is just one of many reasons to consider Atlantis University (AU) in Miami. One of the most popular cities in Florida and the country, Miami is a hub for culture, art, and now, education. And AU is in the middle of it all.
Also appealing for international students is that Atlantis University boasts a language institute for individuals looking to enhance their marketability by gaining fluency in a foreign language. In an ever-changing, more diverse world, this is a huge advantage for students who want to prepare for as many workforce opportunities they can gather. All of this is part of the AU's goal to promote drive, personal achievement, and the development of cultural sensitivity in the marketplace.
Atlantis University is focused on preparing students to become career-minded, responsible professionals. In doing so, AU has made priority of maintaining superior academic programs and cutting-edge educational technologies. Throughout the years AU has grown from a technical vocational school to a degree-granting research and competency-based university with programs under the School of Engineering, School of Business, School of Information Technology and School of Health.
On top of ensuring a quality education, Atlantis University recognizes the need to socially prepare students for the world upon graduation. The University emphasizes training and enabling students to manage industry and social challenges with creativity, critical analysis, responsibility, and commitment. To do this, AU emphasizes small classroom sizes, flexible scheduling, and a career-focused curriculum.
Studying at Atlantis University means studying amidst the diversity of Miami, Florida. It means learning to be culturally, socially, academically, and critically aware of the world around you. Being an AU student means graduating from a school that will ensure your preparedness and success in the workforce through support during and after your time at the University. The school goes the extra mile with career services that take an active role in helping its students actually land a job. Whether you are looking for work in Miami, South Florida, or beyond, Atlantis University will leverage industry relationships and employment resources so that your diploma translates into a career opportunity.
Learn more about joining the Atlantis University family.
No Responses to "Atlantis University in Miami Prepares Students for the Future"
Leave a Reply