Posted on December 28th, 2018 by Phu Nguyen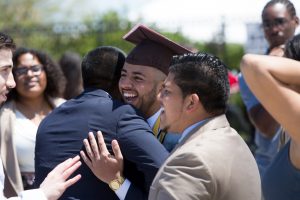 Adjusting to college life in the U.S. can be challenging — a new language, new ways of learning, and a new home. It's important to find a school that will help ease this transition with additional support services, instruction tailored to your academic and language level, and cultural experiences to ensure your future success. If you're looking for a school that is highly awarded, nationally ranked, a powerfully connected doctoral research university offering exceptional liberal arts and sciences programs and professional training, you'll want to consider Adelphi University.
While universities around the country have been eliminating faculty, Adelphi University has hired more than 280 new professors since 2001. Current full and part-time faculty total 956, with a student/faculty ratio of 10:1. To ensure that their scholars have the resources needed to reach their goals, they have invested millions of dollars in infrastructure. The university has recently upgraded technology and created smart classrooms. All of these efforts were made to design an integral college experience for students of today.
Adelphi University seeks to serve its locality, state, and nation through the research and practice of its faculty, the strengthening of ties between the professional schools and community, and most importantly, through the education of a generation of future leaders and informed citizens, professionals, and community members. As a result of so much investments in the success of students, Adelphi is proud of their accolades, which include:
U.S. News & World Report

ranked Adelphi University as a Best College nationwide in the National Universities

Recognized by

Money

magazine for excellence in Educational Quality, Affordability, and Alumni Earnings

Forbes

magazine included Adelphi in its list of America's Top Colleges
It is a priority to Adelphi University to provide an authentic U.S. college experience that includes simple yet important things like studying in a modern library, relaxing with friends on a beautiful campus, and having the option to explore the sights in nearby New York City. The university's perks include but are not limited to:
Beautiful and safe 30-hectare campus (approximately the size of 40 football/soccer fields).

7 residence halls and 8 on-campus dining locations.

5,000+ undergraduate students and 9% international postgraduate students.

4,800+ undergraduate and 2,400+ postgraduate students.

80+ student clubs and organizations, including the International Student Society.

23 sports teams, including football/soccer, tennis and volleyball.
For international students with a hunger for the quintessential American college experience with an invested faculty, read more about Adelphi University.
6 Responses to "Why International Students are Choosing Adelphi University in New York"
Leave a Reply