Posted on June 2nd, 2017 by Bryanna Davis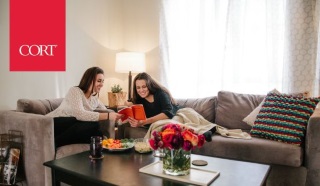 Studying inside the US is an exciting experience, but it also requires a lot of work and preparation to make the journey happen. Finding a place to live and making sure you have the furnishings you need for the year can be one of the most stressful parts of all preparations- especially if you decide to live off-campus. However, CORT knows just how stressful arranging these items can be, which is why you can make this process easier when you find and furnish your apartment with CORT.
When it comes to finding an apartment off-campus, CORT offers ApartmentSearch.com to help you find the perfect place to live during your studies. You can search the specific area you want to live, then take self-guided property tours, gather area information and acquaint yourself with the neighborhood including restaurants, stores, public transportation options and parks. Finding the perfect place to live in a neighborhood you enjoy can help ensure you're able to experience the US in the best way possible.
Once you have the perfect apartment, the next step is to furnish it! Instead of purchasing big, expensive items like a couch, dresser, lamps and tables, and then later having to send them home or re-sell them (for much less than what you purchased them), renting is often a more convenient and economical option. CORT allows you to choose one of three student packages that include hand-picked pieces by their professional design team, or you can personally choose each item. All furniture can be chosen and rented right online, and your furniture can be setup before you even arrive to your new home. If you're not sure how long you will need to rent your furniture, CORT offers leasing options to give you the flexibility you need.
Get more details on how CORT can help you find a place to live and make it feel like home.
No Responses to "Find and Furnish Your Apartment With CORT"
Leave a Reply