Posted on January 27th, 2017 by Connor Smith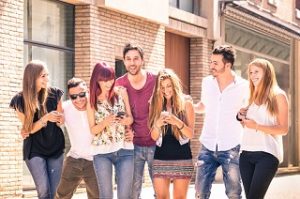 Arizona State University (ASU) is more than a university, it's a place where ideas are valued and the impossible is possible! For over 40 years, Arizona State University Global Launch program has provided Intensive English instruction for students from over 160 countries! Learn more about studying English at Arizona State University where students receive high quality instruction from more than 100 international educators with master's degrees.
ASU is one of the most lively campuses in the country known for its numerous resources and is highly respected. With over 50,000 fellow students and 1,100 clubs and activities, making new friends is effortless!
ASU is the #1 public university chose by international students, according to the Institute of International Education. ASU is located in Tempe, which was named one of the top 10 college towns in the U.S. by the New York Times, and is only 20 minutes from the major metropolitan area of Phoenix. Phoenix, is home to unique experiences such as hiking the Grand Canyon, white water rafting, the Desert Botanical Garden, the Arizona State Science Center and many more!
The Intensive English Program offered by ASU has multiple options for students looking to reach their desired level of English proficiency. There are six levels of English offered, from basic to college-ready. One level takes eight weeks to complete and short-term study programs are also available in four-week sessions throughout the year.
Elective English classes are also available with four different elective tracks and over 25 different elective courses in these popular areas of study:
Business
STEM (Science, Technology, Engineering and Mathematics)
Hospitality
General Studies
Arizona State Global Launch offers another truly unique program, "ASU-USA Pathways," which is designed with students in mind who are looking to earn real academic credits and transfer into the American university system!
Earn 24 or 25 real academic credits that transfer to ASU or other American universities
Ease into American education system: After two or three semesters in the program students take freshmen courses with American ASU students
Immerse yourself in American student life by staying in guaranteed on-campus housing
Take freshman English/Writing courses with other ASU International students
"The United States, there is just something about this country; they really push for excellence. That's what I am looking for, to have a great background and a great experience from such a great school such as ASU." – Avanti, Public Policy student
Learn more about studying English at Arizona State University!
No Responses to "Learn More about Studying English at Arizona State University"
Leave a Reply