Posted on August 26th, 2016 by Jenny Frankel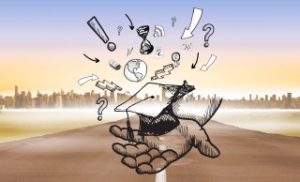 If you want to study in the US then it's best to get started on the process right away. When applying to schools in the USA, you'll encounter a lot of the same applications, essay topics and transcript requests that American students have to complete. But if you want to study in the U.S. as an international student, you may have a few additional items to complete when applying and you will have to obtain a student visa from the U.S. government. Getting a student visa is hard work, but it can be a straightforward process.
First, you have to go through the college application process and get accepted. Make sure you do your research on what college or university you want to attend. Take into consideration class size, student body size, the type of program you would want to pursue, living costs of the area and transportation. The college or university you choose to go to will have a specific application for you to fill out along with essay questions and documents such as test scores and transcripts you have to send over. These requirements can be found on their website or by talking to their admissions department.
After you've been accepted, your school will send you an I-20 form. This form is an official document that says you've been accepted and the dates you should arrive and classes start. The I-20 form is one of several documents you need to apply for a student visa. You also need form DS-156, which you can get from the U.S. State Department, form DS-158, a valid passport that won't expire within the next six months and a passport size photo of yourself. You must also interview with an embassy consular.
Be prepared to provide transcripts and diplomas from previous institutions attended, scores from standardized tests required by the educational institution such as the TOEFL, SAT, GRE, and the GMAT, and financial evidence that shows you or your parents who are sponsoring you have sufficient funds to cover your tuition and living expenses during the period of your intended study, according to the Bureau of Consular Affairs. Every time you enter or leave the country, have form I-20 in your possession.
It might sound like a lot of documents and effort, but having the chance to study in the US is worth the effort!
One Response to "Applying to Schools in the USA"
Mamadou Says:
September 9th, 2016 at 1:27 pm

i am interested in studying mathematics or medicine , but am not so how to go about it. please send me the quikest link if possible.
thanks
Leave a Reply