Posted on June 6th, 2016 by Sutherland Beever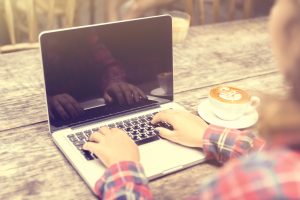 As an international student, you know first hand how expensive a quality education can be. Between paying for tuition,  textbooks, paper, highlighters, and at least 50 other random necessities your wallet can feel pretty empty. Luckily, we've got some great ideas to help you save money on computers and binders for college!
Computers
Having access to a computer is imperative for college. We live in a world where almost everything is done over the internet, almost every assignment is typed, etc. Because of this, most colleges have resources for students who need to save money on computers.
Check your library / resource center

:  Some schools will allow you to rent laptops from their libraries or resource centers. These are usually free services for students and can be a good option if you only need the laptop for a class or to write a paper.

Use campus computer labs / libraries:

 Although some schools won't have the option to rent laptops, most campuses do have rooms with computers that students can use. These can be in libraries, computer labs, journalism labs, etc. Finding an open computer shouldn't be too hard to find on your campus. You won't be able to take these home with you, though, and will have to work on it during operation hours. This is a good option if you have time during the day to work on the computer.

Buy during peak sale times

: If you can't rely on renting laptops or using computers on campus and want to purchase your own, buy during the peak sale times. In the U.S. this is August – September (for back to school sales) and late November – December (for Christmas sales). You can save hundreds of dollars if you purchase your laptop or computer during this time.

Buy second hand

:  If you don't mind a used computer, you can find cheaper alternatives on sites such as ebay.com. Some manufacturers also sell used but refurbished computers for cheaper than the new models.
Binders
If you're an organized student, you'll most likely want to have a binder to keep up with your class notes and assignments. Some professors also require you to have a specific binder for their class. If you're a full time student and are attending college for four years, all of those binder purchases can add up. Here are some options to help you save money on binders.
Check professor offices

: Since many professors require their students to make a binder to turn in for their class, a lot of them have stacks upon stacks of binders in their office from students who neglected to pick their binder up when the class ended. If you can find out who these professors are, they will most likely be more than happy to give you free binders so they're no longer in their offices.

Reuse from previous semesters

: Once you have your binders for a semester, don't throw them out when class is over. Keep them and reuse them for the next semester of classes. If you're intentional about doing this at the beginning, you'll keep your binders in good condition and most of the time if you do this you can journey with the same binders for your four year education.

End of semester move out

:  When students move out for the summer, they throw away a lot of their things because they don't want to go through the hassle of finding a place for it. Some colleges will have a giveaway bin where students can bring the stuff they don't want and the school will donate the things to college students or to an organization in the city. You can most likely find binders in these bins. If your college doesn't have these bins, you can ask around and see if anyone has any binders and / or other school supplies they don't want to keep.
For other school supplies such as pens, pencils, note cards and paper, it's important to buy these items during the peak sale times. Most stores will have a "back to school sale" when schools resume in the fall. At these sales you can find paper, note cards, pencils and pens for less than a dollar. Also be sure to reuse your supplies and don't be afraid to ask people if they have any supplies they don't need. College is already expensive, so saving money on supplies will help with the high cost!
No Responses to "How to Save Money on Computers and Binders for College"
Leave a Reply