Posted on August 22nd, 2015 by Bryanna Davis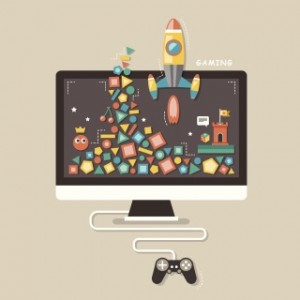 Have you ever wondered who came up with the storyline behind your favorite video game? Who designed the levels, the gameplay and the environment? Who wrote the dialogue and came up with the characters? Who had the initial idea, the creative vision of an imagined interactive world that they then brought to life and shared with gamers around the world? The answer: video game designers.
If you're an international student who loves video games and is looking for a major that combines creativity, elements of computer science and imagination, consider studying game design in the US. Many individuals love video games, but not everyone has the skill or passion required to make game design a career. Game design in the US is an industry that requires designers to be familiar with nearly every aspect of creating a video game–from concept and storyline to programming, coding and rendering. Most often, game designers are initially hired as programmers, artists, or testers, and are then promoted through demonstration of artistic vision, team leadership and technical computer skill (be it imaging, programming, or engineering). So, excelling as a member of a development team and bringing someones game idea to life is the traditional route for a designer to be given the reins on their own project. This means being able to later on bring the product of their own imagination to life in an interactive format to be enjoyed by gamers everywhere.
International students who choose to study game design in the US ought to decide on which aspect of game design they would like to work with. The specialization of game design a student chooses will better prepare a game design graduate for the sort of career they aspire towards, as well as help discern between which institution will be best to attend. The different roles that make up a game design team are:
• Concept/storyboard artist
• Programmer
• Systems designer
• Digital animator
• Texture artists
• Creative writer
• Storyline editor
• Character artist/animator
• Level designer
• Game tester
International students who initially think they want to study game design in the US may find that it is a specific area of game design (such as graphic animation) rather than the creation of an entire interactive world that is their true passion and decide to major in something suited to that specialized role. However, game designers are involved throughout the entire process of a game's creation and may hold different roles along the way; the ultimate position for a game designer is the lead designer position. It is a position that many designers can aspire to be through their designing career journey.
No Responses to "Game Design in the US: A Combination of Creative and Technical Skill"
Leave a Reply