Posted on January 26th, 2015 by Bryanna Davis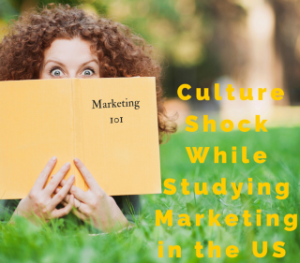 Is this appropriate to wear to class? Am I allowed to say that? Is it a hand shake or two kisses on the cheek…or just one? AHHH. Welcome to culture shock; it's the answer to your question about what to expect when studying marketing in the US.
Almost all international students experience some form of culture shock when they study abroad, after all you are living in a foreign country, probably speaking a foreign language, and live hundreds of miles from everything you consider "normal and/or familiar." Give yourself a little credit for being brave enough to take the plunge and study overseas, it's not something everyone can do! After you give yourself a little pat on the back, read these tips that can help you cope with culture shock and answer more of your questions about what to expect when studying marketing in the US:
"DO" list:
DO join a club or sports team. It will give you the chance to meet other students and practice your English. Try art club, student council, ultimate Frisbee, or whatever activities you personally are interested in. Connecting with people who have common interests can be a lot of fun and easy—you'll definitely have things to talk about!
DO bring things from home to put in your room. It may sound silly but sometimes surrounding yourself with familiar objects can be comforting.
DO have an open-mind because things will be different and the quicker you accept that, the quicker you can ease your culture shock. You might be able to find restaurants that make your favorite dish from home, but keep in mind that the US is known for offering a huge variety of tasty food so try whatever catches your eye—you may find a new favorite food! Apply this way of thinking to everything your do and you'll open yourself up to a whole world of new experiences.
DO talk to other international students. Even if you aren't from the same country your experiences will be similar. It's nice to talk to people who understand exactly what you're going through.
"DON'T" list:
DON'T be pessimistic, it may be difficult at first, but little by little everything will become more familiar and make more sense, just be patient and give it a little time. In the mean time remind yourself of how hard you worked to have the chance to study marketing in the US.
DON'T sweat the small stuff. Everyone makes mistakes, misunderstands people, and gets confused or frustrated…these things happen even when we're at home and speaking our native language! Just take a deep breath and remember to give yourself a break. Anyone who's studied abroad has experienced these feelings at some point—it will get better.
Remember our first question about what to expect when studying marketing in the US? Other than the initial culture shock, international students can expect to get a great education, to make a lot of new friends, to learn a lot about themselves, and have a ton of fun living abroad. This is a huge opportunity- don't worry about having the perfect study abroad experience, enjoy it and take it for what it is; being submerged in a new culture is a great opportunity to learn about a different way of life!
One Response to "What to Expect when Studying Marketing in the US: Culture Shock!"
sepatu anak Says:
March 4th, 2016 at 3:57 pm

Undeniably believe that which you stated.
Your favorite reason seemed to be on the net the easiest thing
to be aware of. I say to you, I definitely get annoyed while
people consider worries that they just do not know about.
You managed to hit the nail upon the top as well as defined out the whole thing without having side-effects , people can take a signal.
Will likely be back to get more. Thanks
Leave a Reply