Posted on November 30th, 2014 by Bryanna Davis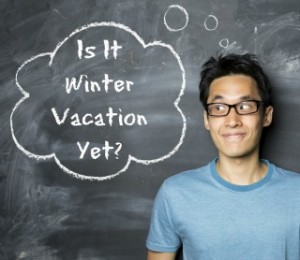 With finals not even here yet it might be difficult to start thinking about the Spring semester, but now is the perfect time. After all, when finals do hit- it might just be what helps you make it through the long study sessions and stressful tests. Get a few tips on how to prepare for the Spring semester so you will have something to keep you sane when the going gets tough at the end of this semester.
Let it go. Take a few tips from Frozen and let it go. After you submit your essay or turn in your exam don't let your thoughts run wild and keep you worried. If you prepared as much as possible and did your best then there is nothing more that could have been done. Take a deep breath and accept that it's now in the hands of your professor.
Take a yoga class. Not only does it offer a great physical workout, but it's a great mind workout. If you're wondering how bending yourself into a pretzel can help you in the classroom- yoga helps improve your concentration, memory and confidence all while calming your nerves. If you're worried about breaking your budget check out deals on Groupon or LivingSocial. Also, many yoga studios will have student discounts or deals for new yogis like a membership for 30 days for $30.
Plot your attack. You will have certain classes you need to enroll in to keep you on track- keep in mind that not every class is offered each semester and when it is offered it will fill up fast. As an international student you can't slack when it comes to signing up for the classes you need. Before classes are full make sure you know which ones you need to take and have all of the documents for the new semester (like health insurance) turned in so you won't have a hold on your account when it's time to enroll.
Go home with a friend. Although you're here to get an education, you're also here to explore! Instead of spending your break alone with endless bowls of Ramen noodles, visit the home town of a friend and see what American culture to them is all about. Check out their home town holiday parade, a basketball game, their annual tree lighting ceremony or whatever winter break tradition they partake in. This will also give you a chance to spend time with their family and hopefully ease any homesickness you might feel during break.
Sleep. More than likely you've spent the past few weeks (or months) locked in the library over piles of books and gallons of coffee. Don't feel guilty for getting a full 8 hours of sleep for a while. The new semester of sleepless nights will be here before you know it. Enjoy one of life's simplest pleasures while you can.
How do you like to reboot and prepare for a new semester? Tell us in the comments below! If you want more information on studying in the US you can visit here.
No Responses to "How to Prepare for Spring Semester"
Leave a Reply