Posted on February 10th, 2014 by Jenny Frankel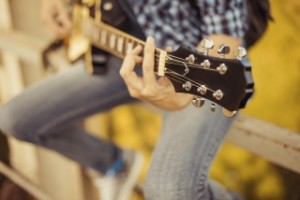 International students interested in pursuing careers in recording engineering by creating and producing their own music might consider looking to Alex Day for inspiration.
Alex Day, a self-produced musician from Essex, England, is one of a growing number of young musicians who are changing the recording industry forever. "I don't have a label, a manager, a press team, a radio plugger, an agent, a publicist, not even a music producer. I make my own music, my own music videos, and YouTube is how I get the word out on those things," he tells an interviewer for tunecore.com. Day got his start back in 2006 when he created his own YouTube channel, nerimon, and began uploading his own videos. Since then, he has gained more than 500,000 subscribers and racked up almost 100 million views. Day got his big break in 2011 when his single "Forever Yours" reached #4 on the UK charts on December 18th. The song reached more than 130,000 downloads worldwide and the music video on Day's YouTube channel was seen more than 4 million times.
According to an article in Forbes, Alex Day embodies the future of music: "self-sufficient, self-funded, and self-motivated." How has Day reached such success as an unsigned artist? If an article on altsounds.com is to be believed, it is by breaking all the rules. Since "Forever Yours" charted, Day has been approached by several major record labels, all of which he turned down, choosing instead to continue self-producing. "they really couldn't offer me anything I can't do myself," Day says on his blog. "[they] used a lot of vague buzzwords ('we'd like to take what you've done so far and expand it'), and would insist on me playing by their silly rules; getting a VEVO channel, giving them most of my money even though I'm doing most of the work, getting a big say in what songs I release and when, not letting me produce my own music … sounds rubbish! So I said no. I really don't need much money – I'm proud to say that with music and YouTube combined I make enough to pay the house and food, and that's nice, so now I might as well just focus on doing things that are lots of fun and that make me happy." His advice for fellow rising musicians is unconventional, as well: "Stop recording albums. I understand that an album can be a great form of art in its own right when all the songs are designed for it and they all weave into each other and they have a concept. Great—but most don't, most artists don't write like that, and with the cherry-picking available on iTunes, there's no point bundling them together. Just focus on making one great song. Keep writing and recording until you have one great song. Then go from there. You only need one great song to make it."
When Day first began creating music, he was produced by friend and fellow popular musician and YouTuber Tom Milsom, but since has begun self-producing his music. "It's so much fun, because I can play all the instruments myself and have complete control over my sound; I learned so much from my time being produced by Tom about what works, how to make things sound good. For the first hour I was in the studio, I just listened to various songs Tom's made and tried to figure out why I liked them so much"
Alex Day's success is proving that it is possible for unsigned artists to reach large audiences with their music. Is it possible that self-producing is the way of the future for the recording industry?
"I make pop music," says Day. "I make it for other people to enjoy. The more people that hear it, the better. And I'm immensely proud of the songs I've released; I think they deserve a moment in the spotlight."
No Responses to "Alex Day and the Future of Self-Producing"
Leave a Reply