Posted on November 23rd, 2013 by Bryanna Davis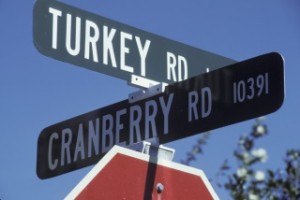 If you're an international student inside the US trying to figure out the answer to the question "What is Thanksgiving?" then we are here to offer a bit of guidance. More than likely from the name alone you have gathered that Thanksgiving is a day devoted to giving thanks. You may have even seen throughout social media outlets that individuals post what they are thankful for during the entire month of November (we are guilty of this).
Hopefully you are able to go home with a friend over thanksgiving break and see firsthand how those in the US typically celebrate this holiday. If this is your first thanksgiving, you'll want to be filled in on a few items that you can expect to experience and that can answer your question of "What is Thanksgiving?"
You will eat… a lot. Making it through the first brutal winter as a pilgrim was not an easy task. Those who made it were taught ways to live off the land by Native Americans. In November 1961 the Pilgrims had their first successful corn harvest. A celebratory feast was then had- and is now remembered as the first Thanksgiving. The tradition of having a feast on this holiday is still very much alive with Thanksgiving dinner. A few traditional Thanksgiving menu items that you can expect to enjoy and maybe even help make are turkey, mashed potatoes, yams, green bean casserole, cranberry sauce, stuffing and a variety of desserts including pumpkin pie and pecan pie.
Don't miss the Macy's Thanksgiving Day Parade. The Macy's Parade has been around for 87 years and has become a Thanksgiving tradition. Watch it live in New York City or on TV to see marching bands, clowns, famous musical performers and balloons that take up the entire street.
The "big game" will be on. While the chef of house will be in the kitchen all day preparing the feast, the sports fans will be on the couch watching football. Other than the meal, watching the football game has become a main staple on Thanksgiving in the US and adds excitement to the gathering.
Know what you are thankful for. While this is not a requirement before every Thanksgiving meal, many groups who gather to celebrate Thanksgiving will go around the table and each say something that they are thankful for. So that you aren't trying to decide last minute what to say- think of a few items ahead of time and make sure you include your host in the list!
Black Friday shopping is taken seriously. The Friday after Thanksgiving starts the holiday season shopping for many and it's a good time to do so. Many stores have their best sale of the year on this day meaning you can get great deals. Keep in mind that doors open early on Black Friday so the best deals will go fast!
If you're an international student interested in learning more on the history of Thanksgiving in the US, you can also  find more here.
Eat, drink and give thanks!
One Response to "What is Thanksgiving in the US All About?"
Greg Says:
July 22nd, 2014 at 4:54 pm

Aw, this was an incredibly nice post. Taking the time and actual effort to create a top notch
article… but what can I say… I hesitate a lot and never seem to get nearly anything done.
Leave a Reply