Posted on June 24th, 2013 by Bryanna Davis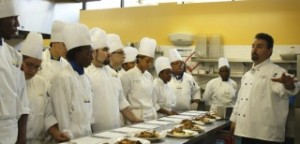 As home to a diverse array of cuisines that range from Thai to Tibetan and Ethiopian to Estonia available around just about every corner, New York City is a town that knows good food. Along with this well-deserved reputation for diversity, the city also enjoys a reputation for quality. Some of the finest restaurants in the world are located in this city which, as both the crossroads of the modern world and an economic heavyweight, has not only the ingredients but also the enthusiasm to cater to discerning palates from around the globe. Those in the know, though, understand that good food requires more than just raw materials and determination, however: it also needs high-quality infrastructure to deliver five star food with five star service. Fortunately, just a stone's throw from the heart of Manhattan, Monroe College has been successfully preparing international students interested in earning a degree in Culinary Arts to meet these high expectations for years.
International students interested in earning a degree in Culinary Arts will find that studying at Monroe College is the perfect way to prepare for a career in food service. That is because the Culinary Arts program at Monroe College is simultaneously one of the largest and most selective programs of its kind in the world. By earning a degree in Culinary Arts students have the opportunity to work closely with experts in a variety of culinary fields both in the classroom and, through real-world internships, in working restaurants. As a result, international students cultivate not only the technical skills they will need to succeed in their career but also have the opportunity to develop the kind of work experience that gives new graduates the ability to walk into a kitchen with confidence. Not that they will have to walk far: with so many exciting opportunities just around the corner the possibilities are practically limitless!
No Responses to "Earn a Delicious Degree in Culinary Arts"
Leave a Reply