Posted on December 20th, 2012 by Jenny Frankel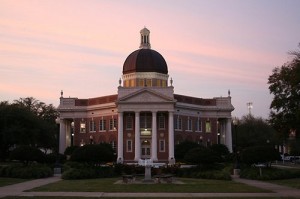 I'm sure when you think of studying in the US, Mississippi probably isn't the first place to come to mind. You might think of New York, California, or Massachusetts, all of which are great places to study. But attending a StudyMississippi school offers many opportunities that you can't find elsewhere. Mississippi is an affordable place to study, off the beaten path, and filled with a wide variety of opportunities. It's hard to beat Mississippi's value when it comes to making the most out of your education.
Mississippi sits in the heart of America's southeast, often referred to as the "Bible Belt" or the "Deep South." Located alongside the Mississippi River and the Gulf of Mexico, Mississippi has deep roots in American history. Its foundation underlies the foundation of the entire Gulf Coast region. In modern times this placement has continued to make Mississippi a central location to numerous important American sites. Urban hubs like Dallas, Texas and Atlanta, Georgia are in close proximity, and New Orleans, Louisiana—one of the crown jewels of the American south—is just a short trip away.
In addition to high quality education at high value and ideal location for exploration, studying in Mississippi also offers a cultural experience that cannot be found anywhere else in the world. With its warm climate and its innate hospitality, Mississippi hosts some of the best and most well-known pieces of deep south culture. Ask anyone who has even been to Mississippi and they'll tell you something about the food. Catfish, crawfish, and crab pile up on plates next to hushpuppies and biscuits at the state's numerous food festivals held year round. And you can bet that at those festivals you'll hear some of the finest blues, rock & roll, or country music in the US. Mississippi is known as the "Birthplace of American Music" for a reason. Modern American music as we know it owes everything to the delta blues artists who honed their craft around the turn of the 20th century. Founding musical figures like B.B. King, icons of American music like Elvis Presley, and current recording artists like LeAnn Rimes have all called Mississippi home. Finally, no cultural experience of Mississippi would be complete without dabbling in the storytelling traditions of the deep south. Great American writers William Faulkner, Richard Wright, and Tennessee Williams emerged from Mississippi, earning international fame writing about the places they knew so well.
All of these great elements of Mississippi culture are still alive and well today, and alongside them the bustling growth of southern business has turned the sleepy south into a booming region of opportunity. For example, Mississippi is home to a Nissan auto plant that counts itself among the world's largest. As industry and business grow, so too does the culture flourish. Mississippi is truly an exciting place to be in this day and age.
So if you are asking yourself why study in Mississippi, you may now be wondering, why not!
Leave a Reply