Posted on December 25th, 2012 by Jenny Frankel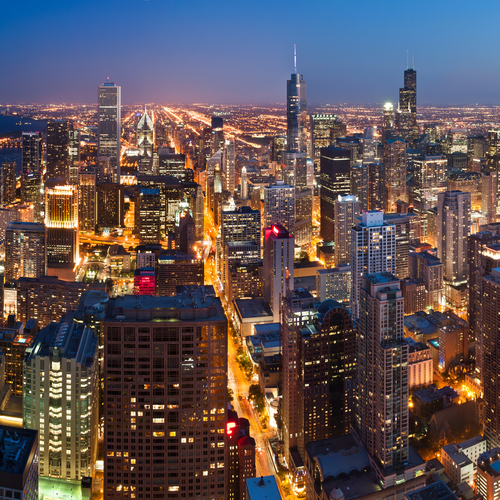 Chicago is a great city. Not only is it a place that is full of history and things to do, but it is also home to the world-famous University of Chicago, one of the top five schools for economics in the world.
The first time I took a trip to Chicago was to see a music festival. This was one of my first times in a big city, and I wasn't quite sure if I would like it. I live in Florida, and here in the south things move a bit more slowly. Culture shock seemed almost inevitable.
Well, my fears turned out to be completely unwarranted. I flew in on a Thursday and I was in love by the time I left that Sunday. The city is beautiful, the food is amazing, and there was so much to do.
When I wasn't at the music festival, I spent most of my time sampling the local bars (I was on vacation, okay?). Over all the Green Mill was my favorite place to drink. It was owned by Al Capone's gang in the 1920s, and used to be a speakeasy during prohibition. Today the bar is very laid back and known for its jazz music. In fact, the only evidence of its gangster past is the secret doors below the bar that lead to rooms that were once used for poker games (which are now for storage) and secret exits so that the gangsters could make an escape if the cops came (which are now used to take deliveries).
I also got a chance to try some local restaurants. Although I never tried a deep dish pizza, a Chicago signature, I feel in love with a place I found on accident called Ann Sather's Restaurant. The food came in gigantic portions, and everything was amazing. The place was so good that I make sure to go back every time I visit the city.
Then, of course, there was the music festival itself. Chicago is home of many great music acts, and there are great shows happening all the time. Even if music isn't your thing, there are all sorts of things to do, from a free (and huge) zoo to an enormous public park.
So if you're unsure about where to study abroad, or if you have a chance to do some travelling while you're in the US, you should definitely visit Chicago.
* Chicago picture courtesy of Shutterstock
No Responses to "Visit Chicago"
Leave a Reply