Posted on September 1st, 2012 by Apinant Hoontrakul
The United States has approximately 3,000 institutions that accept international students. As foreign students who want to come study in the US, you may find it overwhelming when trying to search for colleges in the USA. InternationalStudent.com has created a school search tool to make this process as simple as possible. This tool allows international students to look up any college and university in the US, see where the school is located, how many international students are studying in that school, the tuition cost and more. You can even request for the school to contact you directly!
You can reach our USA school search tool here (http://www.internationalstudent.com/school-search/usa/)
Once you are on this page, you can see a map of the United States. You can click on any part of the map to see a listing of all the college and universities in that state you clicked on. If you already which university you are interested in learning more about you can even type in the name of that school directly on the top right.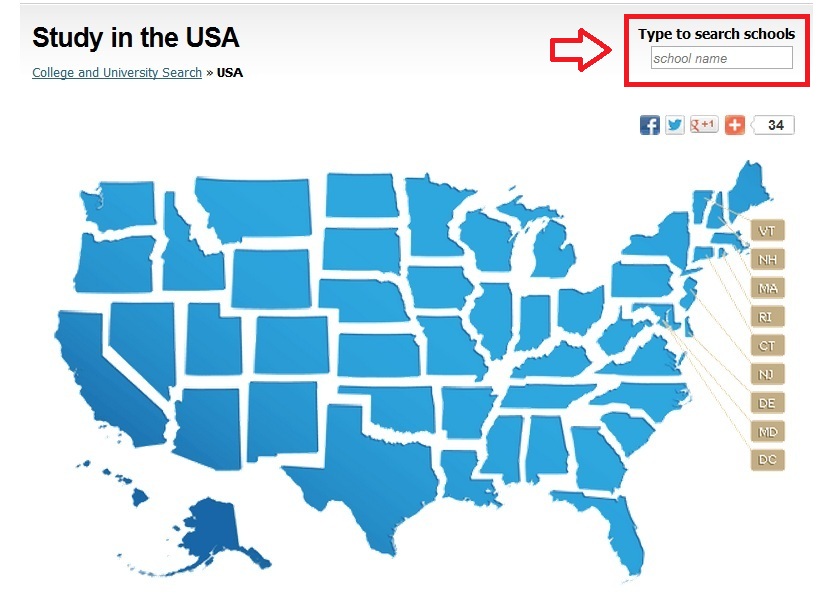 If you're like me and your USA geography is not perfect. Suppose you have heard that New York is a great place, but you don't know exactly where it is on the map. At the bottom of the page you can just click on the name of the state as well!
Now suppose you are not even sure where to start your search for colleges in the USA. Our recommendation is to look at our list of Featured Schools. All the colleges in the Featured Schools section are specifically looking for international students like you to apply, so it is a great place to begin your search.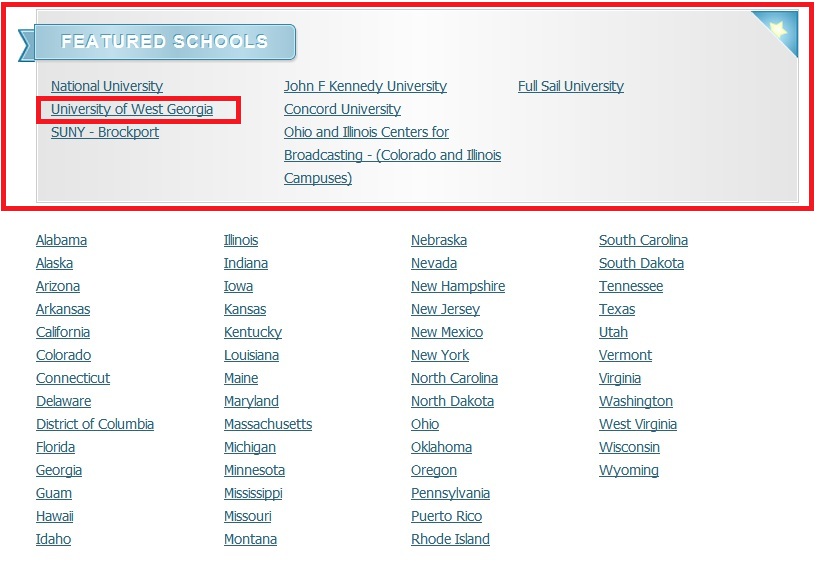 For example, lets look at University of West Georgia in the Featured Schools section. Once you click on the school's name you will be taken to the unique school's page. Lets take a look at our example "University of West Georgia":
1. On this top part of the page you will be able to read a brief description about the school and what they are famous for. I recommend reading this part first to have an idea about what the school can offer to you.
2. Here we get to the interesting part. All our featured school listing include even more detail then our regular school listing. You can see that you can read more on:
Student Profiles: Here you can read about the experience of actual international students at the university.
Degrees Offered: Here you and see all the degree programs that you and study at the university.
Enrollment Info: Here you can see some interesting information such as how many international students are studying there and what is the average test scores for admissions.
Financial Aid Info: Here you can see how much the tuition cost is as well as what percentage of the student receive financial aid to attend the school.
Media: Last but not least, on this section you can see pictures and video of the college and students without having to even visit!
3. Now for the best part! On the right side of the page in the blue box, you can request the university to contact you directly with even more information and how to apply. Just fill out the form and click on "Request Information" at the bottom. You can even choose to receive more email from us if we found a school that is looking to have a student with your description!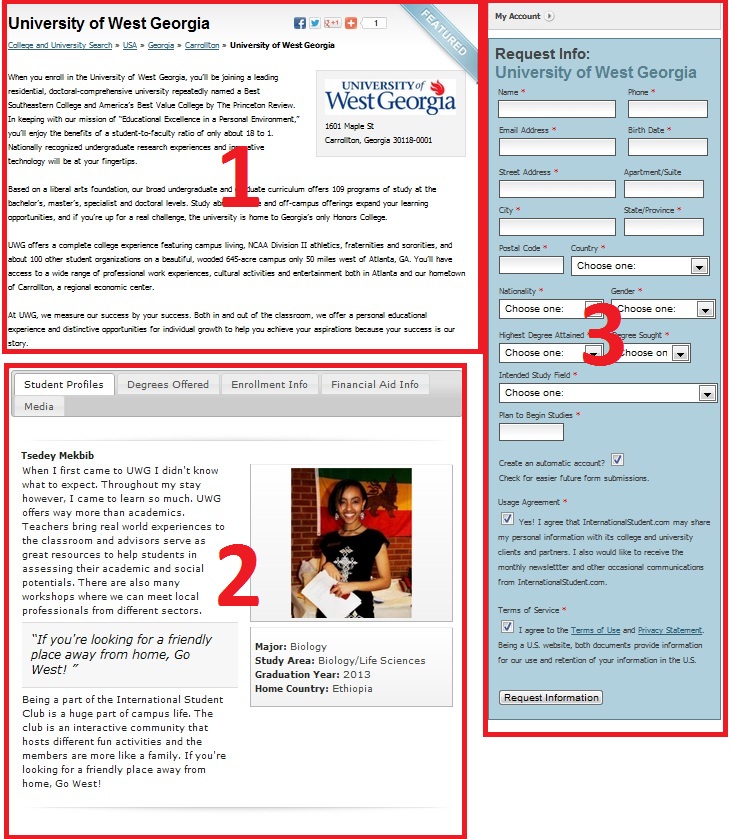 We wish you good luck with your search for colleges in the USA!
13 Responses to "How to search for colleges in the USA"
Leave a Reply