Posted on May 12th, 2012 by Apinant Hoontrakul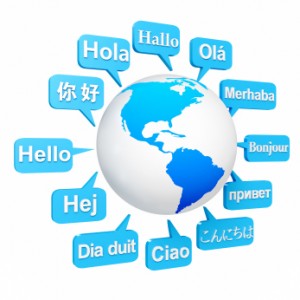 If you are looking to study a second or third language but don't know which one to do, you may what to consider studying one of the top 5 languages spoken around the world. If you look online you will find that there are a number of websites listing these languages in a different order. Based on ethonologue.com statistic, here are the languages that consistently rank as the top 5 languages spoken around the world.
Mandarin (Chinese) – As the world's most populous country it is no surprise that Mandarin is also the most commonly spoken language around the world. With a population of over 1.3 billion people, there are many different Mandarin dialects that vary widely across the country – in fact, it varies so much that people from different regions may not understand each other. Most people think of Chinese as Mandarin Chinese, which is the official language of the country, and it is also the most widely spoken of all the Chinese dialects.
Spanish – As the official language in the majority of countries across Central and South America, Spanish has the second largest number of speakers around the world. Spanish is also spoken throughout Spain and in many parts of the United States. Language variations exist between speakers from different countries where words and phrases, and even pronunciation, can vary.
English – For non-English speaking students, English is most likely on the top of their second language list. Since English is widely considered to be the international language for Business, many students consider it to be top priority. International students who want to learn English usually consider studying in the USA, UK or Australia, but there are also many other English as a second language schools all around the world.
Arabic – Arabic is the official language for countries located in North Africa and the Middle East. Just like the other languages on this list there is a high degree of language variation depending on region and country.
Hindustani – As the official language in India it is also no surprise that it made the list because India is the 2nd most populous country in the world. According to the statistics, India is expected to overtake China as the number one most populous country in the coming years.
The decision of which language you should study is not a complex one, but it should not be based solely on how popular a language is either. Knowing how many people around the world is only part of this decision. No matter which language you study, if you are serious about it, consider studying in the country where your language is natively spoken. Check out our study abroad center to find a program that interest you.
11 Responses to "Top 5 Languages Spoken Around the World"
Leave a Reply