Posted on June 16th, 2017 by Connor Smith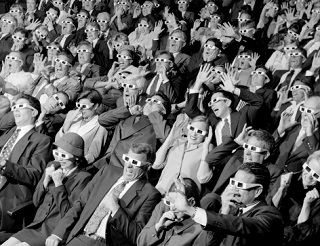 Adjusting to life in the US is more than just learning English or eating American food. If you really want to learn more about American culture, what better way than by watching popular American movies!

Your new friends in the US will most likely surprise you from time to time by quoting their favorite movie lines or make references to iconic American cinema. To be in the loop when they do so, you'll want to make sure that you understand the joke, quote, or reference, which means you'll need to watch a few popular movies. 
While there are hundreds of famous American movie quotes, here are 10 films from a variety of genres and decades, that you should watch. Let's start with one of the most classic films in American cinema:
1) Gone with the Wind (1939)
– This movie tells the hardships of the American South during and after the Civil War in the 1860s. This film is filled with action, romance, adventure and arguably the most well known line in film history. If you're into history this a great film to immerse yourself into one of America's defining wars.
"Frankly my dear, I don't give a damn." – Rhett Butler
2) Apollo 13 (1995)
– Based on real life events this film tells the story of the Apollo 13 mission to the Moon back in 1970. These three astronauts safely navigate their way back to Earth after enduring many hardships in the vast emptiness of outer space.
"Houston, we have a problem."
– Jim Lovell
3) The Godfather (1972) – An American crime film which chronicles the fictional leaders of a New York crime family from 1945 to 1955. Highly regarded as one of the best films in the world, it's a must watch for any film lover.
"I'm going to make him an offer he can't refuse." – Vito Corleone
4) Forrest Gump (1994) – Hangout with Forrest as he tells his fictional life story on a bus bench to strangers in Savannah, Georgia. Throughout the film you'll see some of the most defining events of the latter half of the 20th century. This movie will make you laugh and possibly make you tear up a little bit. As the saying goes…
"My momma always said life was like a box of chocolates. You never know what you're gonna get." – Forrest Gump

5) Mean Girls (2004) – Despite being 13 years old, this film really showcases the structure of high school cliques in the US. You'll get a firsthand look at the social groups in American high schools. While this may be a high school film the experience is still relatable, even in college. So buckle up because…

"Get in loser. We're going shopping." – Regina George

6) Clueless (1995) – Talk about being the Polaroid of perfection. Cher Horowitz has it all in this teen comedy that shows the epitome of 90's culture in Beverly Hills, California. From start to finish you'll see character development and teen culture that's still relevant today.

"Ugh. As if!" – Cher Horowitz

7) Star Wars IV – A New Hope (1977) – Star Wars is an epic space tale that quickly became a cultural phenomenon with many sequels and prequels spanning over the past 40 years! Out of all of these films though the "must see" Star Wars film to kick start your sci-fi obsession is the original film "A New Hope." Always remember…

"May the force be with you." – Obi-Wan Kenobi

8) The Dark Knight (2008) – When it comes to superhero movies, it's hard to top Batman. The Dark Knight is part of a trilogy series and is regarded as one of the best superhero movies of all time. With Heath Ledger giving an amazing performance as the "Joker."
"Why so serious?" – The Joker

9) Elf (2001) – If you don't know one Will Ferrel movie, you certainly will want to before studying in the US. Elf is the story of Buddy the Elf, who was adopted by Santa and meets his real family in New York City. Learn about the American Christmas experience from an outsider just trying to make it in the big apple!

"Santa! Oh, my God! Santa's coming! I know him! I know him!" – Buddy the Elf

10) Toy Story (1995) – This list isn't complete without at least one Disney movie on it. In addition to having an iconic quote, this movie also has a great song promoting friendship, "You've Got a Friend In Me," and will bring out your inner child and open up your imagination to new heights.

"To infinity and beyond!" – Buzz Lightyear
I hope you've enjoyed this crash course in American cinema! While this list only scratches the surface I encourage you to sit back, relax, have a pre-study abroad movie night and explore the land of American films! For more movies, AFI's 100 Greatest Movie Quotes of All Time is a comprehensive list of quotable films.
No Responses to "10 Iconic American Movies You Should See Before Studying In The US"
Leave a Reply