Posted on December 18th, 2015 by Jenny Frankel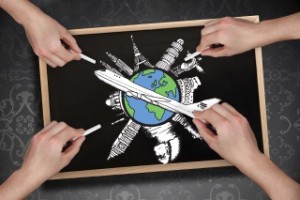 Aside from the many employment possibilities and cool job description…why study marketing? Maybe you never considered this before, but becoming a marketing professional can give you the opportunity to make the world a better place.
Let's look at a unique marketing campaign called The Waiting Time Experiment for example. Did you know that in Germany three people die every day because there aren't enough organ donors? This is a huge issue and affects the lives of thousands of people. Maybe if more people knew about this issue they would help out?
Fürs Leben, a non-profit organization based in Germany, created their "public experiment" to raise awareness about this issue. They had a young man, who has been waiting for a new kidney for 7 years, sit at a train station and undergo his daily dialysis with a sign behind him that said "Some of us are waiting longer…for an organ donor. Help with an organ donor card."
The scene generated a lot of curiosity for the people who were waiting for their trains and eventually people started to approach the young man and asked him what he was doing. Over the course of the experiment the non-profit was able to make thousands of impressions and spread their message. You can watch the video below to gain a better understanding of how exactly the experiment went.
International students who study marketing and eventually become marketing professionals can use their skills and knowledge to support and assist tons of important causes. You may have heard of The Relay for Life? It's a volunteer-driven cancer fundraising event that was started by the Cancer Society of America. Over time, through word of mouth and various marketing efforts, the event has spread to over 21 countries and has raised billions of dollars for cancer research and cancer patients.
Or maybe you've heard of The Invisible Children? They're a group that works to end the violence and atrocities happening right now in East and Central Africa. There are so many important causes and issues that need help getting the word out. International students like you can help them through the skills and knowledge you'll gain in this area of study. You should study marketing if you feel strongly about a cause or want to work with non-profits later on in your career…marketing professionals can be a huge asset to organizations like these.
No Responses to "Marketing Making the World A Better Place"
Leave a Reply