Posted on November 7th, 2013 by Bryanna Davis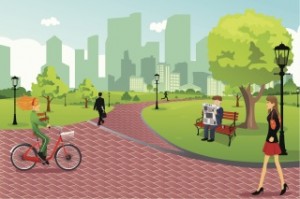 For most people, staying in shape doesn't necessarily come easy. Exercising and eating right take conscious effort, no matter if you're at home or in a foreign country. But when you're studying abroad, you may not have access to work-out facilities or health food stores like you do in your hometown. However, with a little bit of time and effort, staying in shape while studying abroad can be a walk in the park – literally!
Get to know the area you're living in. Take a walk once a day for a week, each time taking a different route. Not only will you naturally be getting exercise, but you will be able to explore your new neighborhood and discover if there are any good parks or trails for walking, running, biking and/or rollerblading. You'll also have the opportunity to scope out if there are any gyms nearby, what type of services they offer and what their weekly, monthly or class fee is.
Talk to the locals! Natives typically love helping out with whatever questions or problems visitors may have. If there is a particular sport you enjoy playing, you can ask about recreational teams or leagues. If there is a class you really enjoy in the gym, like yoga or spinning, inquire about nearby gyms that might have those courses or something similar.
The Internet is also a great resource for free exercise videos or tips for working out at home. YouTube, for example, has a multitude of exercise videos, from belly dancing to circuit training to Zumba. A simple Google search for "how to workout at home" will also result in pages upon pages of articles with tips, tricks and exercises – many of which you need nothing more than you and your body.
When, where, and how you stay in shape while abroad ultimately comes down to your personal preference, and it doesn't necessarily require money. Once you have acclimated to your new temporary home, it's only up to you to decide which exercise plan will be best for you and your schedule.
3 Responses to "Staying In Shape While Studying Abroad"
Para Says:
November 11th, 2013 at 11:21 am

This was an inspirational blog. I really find that exercise is imperative to clear thoughts and to help re-gain focus. Its great that we can read blogs that sends out positive feedback!
Thank you!

Chad Says:
November 22nd, 2013 at 8:53 pm

It is important to be safe and see the cities that you study in. Make friends with local students and have them show you around.

Ronald C. Herd II Says:
December 8th, 2013 at 12:00 am

11/7/2013
Thanks for these tips…Your health is your wealth and should always be high on one's priority list…
Leave a Reply