Posted on May 13th, 2013 by Bryanna Davis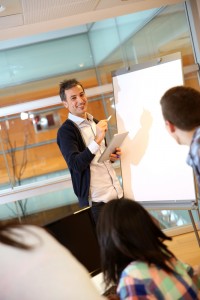 Many careers in sociology require individuals to have a graduate degree in sociology. While in graduate school, taking classes and doing your own research will take up much of your time, and many sociology departments recommend that graduate international students do not have a job outside of the department. So, how do graduate students in sociology support themselves? Most sociology departments offer sociology graduate school funding opportunities for their students.
Sociology graduate school funding can come in several forms. Sociology departments tend to support their graduate students as teaching assistants or research assistants. A teaching assistant is usually assigned to a particular professor or class and is responsible for grading undergraduate students' assignments, assisting the instructor with classroom duties (e.g. keeping track of attendance) and teaching lectures or discussion sections. Make sure that you check the departments that you are applying to as they may have different names for these assistantships. For example, some universities will make a distinction between graduate assistantships and graduate teaching assistantships or between teaching assistants and teaching associates. This difference usually indicates whether or not the international student is responsible for teaching their own class or assigned to assist a professor with instructional activities. Teaching assistants are chosen by the department, so make sure to check application deadlines carefully, as applications are due earlier when you wish to be considered for sociology graduate school funding.
Research assistants are assigned to particular faculty members to help with their research projects. The details of the research assistantship will depend on the type of project or the professor with whom you are working. Research assistants are usually chosen by the professor who is conducting the research. So, if you are interested in working as a research assistant, get to know the faculty in your department and the research that they are involved in.
Many assistantships include tuition remission along with a salary for your work, but some do not. Additionally, many assistantships do not cover your university fees. However, some universities offer fee fellowships to cover this additional cost. Make sure that when you are applying for or receiving an assistantship from your department that you ask about these issues. This is especially important if you have received more than one offer and are trying to decide which university to attend. Prospective international students should also be aware that they can apply for university and department fellowships as well.
Teacher in lab doing presentation on whiteboard photo courtesy of Shutterstock
No Responses to "Sociology Graduate School Funding"
Leave a Reply