Posted on November 12th, 2012 by Bryanna Davis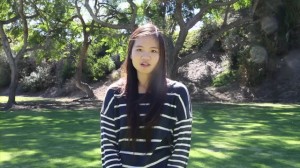 Each year InternationalStudent.com receives a good number of entries to our annual Travel Video Contest. This year we were ecstatic to see that it was our biggest success thus far, with over 100 student entries from 44 different countries! The competition was fierce as we received a number of excellent videos. However, nothing prepared us for what was to come when one touching video went viral in Vietnam.
Students around the world rushed to enter their video into the contest, describing where they would like to study abroad and why. Each submitted their great artistic effort with the hope of winning the $4,000 grand prize to put toward their adventure in a foreign country. However, Cat Tuong Le, an international student in California, submitted her video with a different story and purpose in mind. Instead of trying to raise money to put toward a trip to a new land, she is fighting for funds to visit home with her video Redefining Home.
About two years ago Cat's father was diagnosed with cancer. Even after falling ill, he urged her to be strong and follow a common dream they shared – that Cat would graduate from an American university. Cat set off for the United States with a bell her father gave her to ring in the "new land," symbolizing that she had put her mark on the world. The bell is her token of courage, travelling with her on her backpack, as she fulfills both her and her father's dream. Now, it has been two years since Cat has visited home and she wants more than anything to visit her father for what might be the last time.
As Cat received more than 3,500 shares of her video through social media like Facebook, YouTube and Vozforums.com, the number of votes for Redefining Home began to increase along with the traffic to InternationalStudent.com. Cat also received numerous encouraging messages like:
" If I had 10,000 emails, I'd use all of them to vote for you. I like how you and your dad love each other. You go, girl!"      -Thai Bui
And
"Hope you can get this prize girl."    -TheBusticute
However, it wasn't until the popular Vietnam news source Kenh14 caught wind of Cat's story that it went viral in Vietnam and votes for Redefining Home came pouring in. Kenh14's story spread like wild fire and gained almost 5,000 Facebook likes. The heavy traffic of visitors voting for Cat at InternationalStudent.com gave us our two heaviest traffic days ever, caused our server to crash and gave Cat the winning title of Viewers' Choice Award by threefold; all memorable records in our book.
Cat received more viewer votes than any other video in the history of the contest- a total of 19,500 votes. This gave her an automatic entry into the finalist round, $500 and a shot at winning the $4,000 grand prize. Watch all of the great finalist videos before the grand prize winner is announced Friday, November 16.
17 Responses to "Viral in Vietnam"
Leave a Reply