Posted on January 5th, 2021 by Connor Blay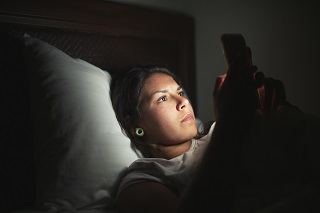 If you're reading this blog, there's a 100% chance that you're reading it on your computer, tablet, mobile device or whatever piece of technology you use to browse the internet. In the age of COVID-19, almost all of us are guilty of spending too much time on our devices and not enough time enjoying the world around us. We know that little bit of truth might be hard to take in and you might be thinking of shutting off your device now out of guilt. But wait don't turn off your device yet! We've got some tips on limiting your screen time so you can improve your quality of life in the new year.
1. Set Time Out to Physically Lock Your Phone
If you're anything like us, you've been on your phone way too much in 2020. It's so easy to get hooked on scrolling through social media, playing games, etc. This is especially true in a time when there's really not much else to do. One of the keys to cutting down your screen time is to be disciplined. Picking out a period of time each day to step away from your device is a great way to limit screen time. Most devices today have a "Do Not Disturb" setting that allows you to turn off notifications entirely. With this setting, typically you can even schedule a time to be on "Do Not Disturb". Of course, this won't prevent you from picking up your phone to scroll through social media or play games. So, if you want to eliminate the temptation, the best thing to do is turn your phone off and place it in another room for the amount of time you'd like to stay off of it.
2. Monitor Screen Time Reports on Apple Devices
On iPhones and other Apple devices, you may have noticed that a Weekly Screen Time Report is provided. This gives you the average hours you spend per day on your screen. It even shows you which apps you are using and how frequently you use them. Monitoring this will help you be aware of the amount of time you spend on your device and will help you better plan for spending less time on it.
3. Setting a Time Limit for Browsing Through Social Media Apps
You can always do this by setting aside a chunk of your time mentally. However, apps like Facebook, Instagram and YouTube actually allow you to set a time limit for the amount of time you can spend on them. How does it work? The apps will send you a reminder when it's time to log off. This feature is easy to set up and definitely holds you accountable for managing your time.
We understand that in a time like this, you need to use your devices for schoolwork. However, we also understand how distracting they can be as they have been a distraction for all of us too. If you start managing your screen time more efficiently, you're sure to be on the right track for success in your academic and personal life!