Posted on May 19th, 2015 by Bryanna Davis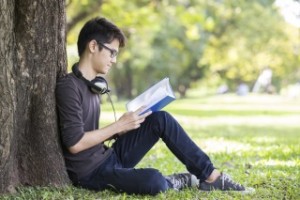 Classes are out for the summer which means your college campus closely resembles a scene from The Walking Dead: empty. If you decided to stay on campus this summer and are now debating whether you made the right decision, take a deep breath and continue reading before you rush into buying a plane ticket home. Even if there are only a handful of your friends to join you this summer- there are a lot of great ways you can fill your time.
Build your transcript
Although the list of classes offered during the summer aren't nearly as extensive as during other semesters, there will more than likely be a few classes offered that you need to take. A few perks to summer classes are that they typically don't have as many students enrolled which means you'll receive more one on one time with the professor. If in the past you've tried to avoid your professors at all costs, a summer class will be a great turning point! One on one time with your processor means you're able to ask specific questions on class lectures or assignments but also have the chance to build your professional relationship. Students often need references or letters of recommendation when searching for an internship or job and professors are a great place to turn! Getting to know professors during summer class is a great way to start the foundation you need to have a letter of recommendation when needed.
Build your resume
Participating in items that help make your resume look great aren't always boring or stressful and they can often be easily squeezed into your summer plans.
Volunteer: Although you won't find many volunteer activities on-campus during the summer months the local community will have events you can get involved in throughout the year. Don't forget about small businesses when looking for somewhere to donate your time- reach out your local animal shelter, food pantry, library and retirement home.
Find a Hobby: As an international student inside the US you will be exposed to many hobbies that aren't available in your home country. If you're interested in one take advantage of your free time and try it out!
Get an Internship: An internship is a great way to obtain "real-world" training in the industry you're pursuing and it might even be required as part of your program. Find out if you're eligible to participate in CPT or OPT and start searching for internships!
Build your bank account
Work on campus: Working on-campus doesn't require USCIS approval which means you might be able to make some cash this summer! Contact your international student office for approval (if needed) and for more details on how to start the on-campus employment process.
Build your list of experiences
Summer break is a great time to explore! Find a few other students who have time to spare and hit the open road or jump on a flight.
Build your on-campus knowledge
If your college campus is like most it has years of history, beautiful gardens, free resources and interesting artwork throughout campus. During the hectic Autumn and Spring semesters you might have been too busy pushing your way through crowds to notice everything your campus has to offer. This summer take time to explore and appreciate your surroundings. If you already know and love your campus, become a tour guide! Throughout the summer prospective students will be touring your campus trying to decide if they want to attend your school- ask your international student office how you can apply to become a guide.
One Response to "Spend Summer Break On Campus"
tsanga richard bienvenu Says:
June 10th, 2015 at 9:23 am

let GOD take all the glori in this opportunity this school give to me to continue my school
Leave a Reply