Posted on March 1st, 2023 by International Student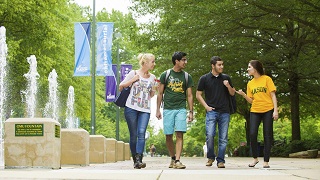 Virginia is known for its large public universities and students attending George Mason University can enjoy the benefits of a large school, while also living a more intimate campus life. The school has an enrollment of over 35,000 students, which is large enough to provide a variety of activities and organizations – but small enough that students don't feel lost in the crowd.
The university is known for its research and has been ranked as one of the nation's top-tier research universities. Students have access to cutting-edge facilities and resources, but they also enjoy a close-knit community feel on campus.
George Mason University is located in Fairfax, Va. – about 20 miles from Washington, D.C. The proximity to the U.S. capitol provides students with endless opportunities for internships, jobs, and networking.
With unique career-building opportunities, over 78 degree programs, 94 master's programs, and 38 doctoral programs, students can count on George Mason University as a diverse and innovative university in the United States.
With world-renowned faculty, rigorous coursework, and unique research opportunities, international students have the chance to gain the skills and experience they need to succeed in their chosen field.
Student Life at George Mason University
George Mason University provides students with key facilities and resources to enhance support and enhance their educational experience. Here are just a few that students can enjoy:
Campus residence halls
Dining halls
A recreation and athletic complex
An aquatics and fitness center
Outdoor intramural sports club
Indoor leisure facilities
Campus library and collaborative spaces
Housing is an important consideration for any international student, and the university offers a variety of on-campus options including traditional rooms, suites and apartments. Students can find a place that fits their budget and lifestyle. Plus, each of their housing options come with free laundry, Wi-Fi, cable, and other amenities, including a 24/7 service desk.
The campus itself is situated on over 667 acres, which provides plenty of room for students to explore. There are also 170 student organizations on campus, which means there's something for everyone.
Exploring George Mason University
George Mason University is a great school to explore as it has plenty to offer students. With a diverse student body, top-tier academic programs, and a beautiful campus in a great location – it's certainly one to check out.
One Response to "Explore Studying at George Mason University"
James Says:
March 2nd, 2023 at 5:48 am

Thanks for that my dear friends!
Leave a Reply