Posted on September 16th, 2020 by Luke Clausen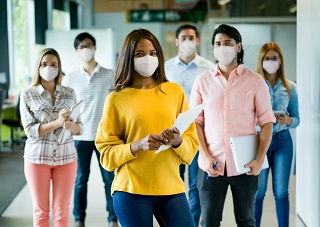 The Background
No matter where you are in the world, the coronavirus pandemic has impacted your daily life. As an international student, this impact is heightened drastically, because you are making major life choices, and these choices depend on whether or not your university's campus is opening for the fall semester, the state of the job market, Visa requirements, and much more. At the beginning of the semester, we saw many universities adopt a hybrid classroom format, while others went totally online and some returned to campus with strict guidelines in place. In March, the pandemic caused universities all across the US to take unprecedented action and shut down in-person classes and student services entirely. A Rave Mobile Safety poll predicted that, in the fall semester, 63% of colleges would be planning on hosting classes in person, 7% would be planning to use a hybrid format, 7% would be planning to do it entirely online, and 9% would be undecided. By now, many schools have started their fall semester classes, and as the semester moves along, some of these schools have changed their plans based on guidance from the CDC and WHO. A general trend that has arisen for the fall semester is the effort to bring students back home before Thanksgiving in order to avoid a second wave of infections. For this reason, many universities have decided to forgo fall break and hold classes through the whole semester. A majority of classes have social distancing requirements and will likely keep these throughout the semester, along with various other precautions to prevent the spread of the virus.
Classroom Regulations
However, COVID regulations do not end here. As a student living on campus, you will need to understand the restrictions and regulations that your school's administration places on social gatherings, travel, living situations, guests, dining, and more. At University of South Florida, the administration has announced that they have moved into "Phase II" of their plan to handle the coronavirus. During Phase II, up to 50% of staff is allowed to return to campus, courses can be delivered face-to-face, hybrid, and online, and some of the campus services will reopen. Residence halls are reopening for students, but with safety precautions in place. Many administrators are implementing communication plans that utilize campus safety apps to alert students of changing conditions such as class schedules, school events, or travel policies. For example, the administration at the University of Maryland used a campus messaging system to announce to their students that about 15% of fall undergraduate courses would have in-person instruction. They also tweeted a picture of McKeldin Hall, a nine-acre field in the middle of campus, which was scattered with white shells, each designed for one student, placed 6 feet away from one another. This is not something that universities have experienced before, so you should do your best to cooperate with your administration as much as you can. Professors and administrators will have to adapt quickly to changing conditions as the spread of the virus is monitored, so it is important that you do your best to adapt as well. In most cases, these changes include but are not limited to mask requirements and protective barriers between desks to maintain social distancing requirements. However, these are changes that all schools are making, and many more will be taking extra precautions to stop the spread as much as possible.
Change of Plans
Some schools have already changed their plans dramatically in response to spikes in positive cases, new guidance, and other coronavirus-related issues. For example, during the current semester, University of Notre Dame experienced a rise in coronavirus cases, so the administration suspended in-person classes for two weeks, while Michigan State University announced that their fall semester would take place in a solely virtual format. With the way the virus has been going lately, these kinds of drastic changes are possible, so it is important to stay prepared and up-to-date on current events, in case an unexpected change comes.
Recreation
During the fall semester, if you don't already have one, you should consider picking up a hobby or pastime that you're passionate about. The stress of schoolwork can be very draining, and going to parties or social gatherings is a very common way for college students to blow off steam. However, with limitations placed on these types of gatherings, finding something that you can enjoy by yourself and that keeps your mind occupied and inspired is essential. Depending on regulations at your school, you may be able to share some activities with a few close friends, but you should avoid pursuing something that relies on the participation of a large number of people. This will provide you with a way to relax and entertain yourself, making your academic journey smoother and more worthwhile. It is much easier to introduce discipline into your life and hold yourself accountable for your schoolwork when you have reliable ways to exercise, relax, and have fun. Typically, many students at colleges and universities join campus clubs and organizations for recreation and a sense of community. However, while many schools, such as University of South Florida, are holding club meetings and events virtually, and some others are holding these meetings and events with face mask mandates and social distancing requirements, it may be a good idea to find a backup recreational activity that you can do on your own time. The good thing about college clubs is that they tend to be free, so you can always explore different opportunities, and see if any of them are worth committing to, given the restrictions put in place by your school.
Be sure to follow your institution's guidelines and stay up-to-date on changes in order to be as safe and healthy as possible during this semester!
2 Responses to "COVID-19 Update: What's Happening in US Higher Ed this Fall?"
Linda Williams Says:
October 26th, 2020 at 12:25 pm

The effects of COVID-19 has been felt by the whole world. Education has been affected and where schools have resumed, there are measures in-place to ensure safety. It is therefore necessary for all students to take case and ensure they are safe when in school

Connor Blay Says:
October 26th, 2020 at 1:10 pm

We couldn't agree more, Linda! Thank you for reading.
Leave a Reply