Posted on March 16th, 2020 by Connor Blay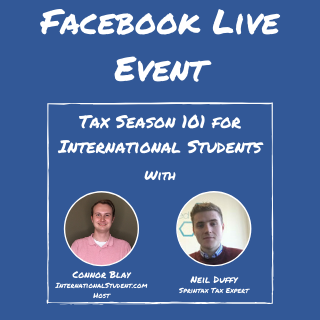 We're less than a month away from Tax Day (April 15th) in the US and international students should be filing tax returns if they haven't already. All international students studying in the US and their dependents are required to file tax returns regardless if income was earned in 2019 or not. For students who may not be familiar with the US tax process, InternationalStudent.com has joined forces with Sprintax for a Facebook Live event.
Sprintax was created to help international students, scholars and researchers in the US on F, J, M and Q visas. This Facebook Live event will be an opportunity to learn about the steps of filing tax returns as an international student in the US. Viewers will also be able to ask Sprintax Tax Expert, Neil Duffy, any questions they may have about the process. In the meantime, students can visit the Student Tax Return section of our website to learn more about filing taxes as an international student.

Please join us on Wednesday, March 25th at 11:30am EST for Tax Season 101 for International Students. Make sure you're on our Facebook page a few minutes prior to the event so you don't miss a second!
No Responses to "Facebook Live: Tax Season 101 for International Students"
Leave a Reply