Posted on February 26th, 2020 by Connor Blay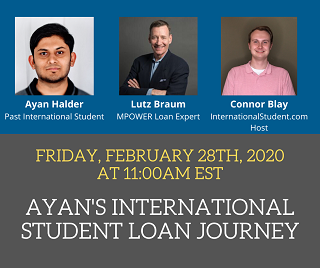 In order to start your journey as an international student, you will first need to make sure you have adequate funding. There is a large amount of funding available to international students like grants and scholarship opportunities, but more often than not, these will not cover the full cost of tuition & fees. Because of this, students often rely on loans to help fund their studies abroad. We know that it's difficult to even know where to start when it comes to finding the right loans for you. That's why we'll be live on Facebook with a past international student and our current loan partner MPOWER Financing chatting about the international student loan journey and answering your questions.
MPOWER works with select schools in both the US and Canada ensuring that international students can receive loans without a cosigner. MPOWER is doing more than just their part when it comes to international student needs. In addition to being the top lender for international students, MPOWER goes above and beyond, providing benefits like scholarships, free career help, job and internship opportunities, and free visa support letters to approved borrowers.
Join InternationalStudent.com host Connor Blay along with special guests Ayan Halder and Lutz Braum on Facebook this Friday, February 28th at 11:00am EST to get informed and to have a chance to get your questions answered. In order to join this Facebook Live Event, go to our Facebook page at the scheduled time. We look forward to hanging with you all!
Leave a Reply