Posted on December 27th, 2019 by Connor Blay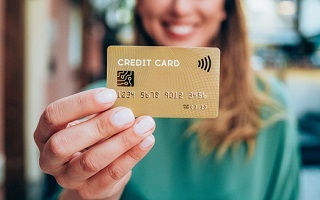 Ever wondered about what it would be like to have a credit card? Fortunately for international students, we've partnered with Deserve so that your dreams can become reality. Deserve knows the experiences of international students because it was built by people who actually were international students. If you are a student 18 years or older, you can apply for a Deserve Edu MasterCard today and you enjoy the many perks it offers.
No Social Security Number (SSN) Required for International Students
Many credit card companies will require that you have an SSN in order to open an account with them. Deserve isn't one of them.
Amazon Prime Student Membership
If you're looking to apply for a credit card, ask yourself this when you compare companies: Do I get Amazon Prime with them? With Deserve, the answer is yes. You'll get reimbursed for subscription fees up to a lifetime total of $59!
1% Cash Back on All Purchases
Imagine getting free money for spending money. No matter what you buy, Deserve will give you money back on all of your purchases.
Credit Limits Up to $5,000
Most credit cards will limit the amount of money you can borrow per pay period. But Deserve understands that international students might need to borrow a little more than the average person. With a credit limit of $5,000, you will be able to borrow enough to make it through the month without worry. Just make sure you can pay it back on time.
$0 Annual Fee & No Foreign Transaction Fees
Don't worry about letting your card sit with a $0 annual fee. And enjoy traveling during Spring and Summer break without foreign transaction fees!
No Security Deposit or Co-Signer Required
If you don't have a co-signer, don't worry! Deserve doesn't require you to have one in order to apply for a card. You won't have to pay a ridiculous amount for a security deposit either.
Use Anywhere MasterCard is Accepted
Some credit cards won't let allow for international use. The Deserve Edu MasterCard allows for use in any place around the world where MasterCard is accepted. Anywhere in the world, you say? That's a lot of places!
Includes MasterCard Platinum Benefits
How do benefits like Car Rental Collision Damage Waiver, Roadside Assistance, Travel Assistance Services, Price Protection, Extended Warranty, and ID Theft Protection sound? You'll get all of those with the Deserve Edu MasterCard. Score!
Complimentary Cellphone Insurance Up to $600
Ever broken a phone? We all have. Deserve allows you to insure your cellphone up to $600 so that you don't have to stress if your screen shatters.
Variable Annual Percentage Rate (APR)
Basically, this means that your APR is subject to change over time and you will be notified beforehand. This is great for short-term users like international students because low rates will save you money!
Other EDU Card Benefits
Receive one year of Amazon Prime Student on Deserve after spending $500 in the first three billing cycles with your EDU card (Lifetime Value of $59).
Earn 1% Cash Back on all purchases with your Deserve EDU Mastercard. Once approved, you'll automatically start earning cash back on all purchases.
Feel secure with cell phone protection up to $600.
No deposit required. No annual fees.
No international transaction fees on purchases abroad so you can travel with confidence.
No Social Security Number required for international students to apply.
Refer A Friend Program: Refer anyone to Deserve using your personal referral code. Upon approval, card activation and use, you'll receive $30 and so will your referral. Referral bonuses are unlimited!
Manage and track your spending, set automatic payments and securely freeze your card all through one easy to use app.
See if you prequalify with no impact to your credit score in minutes.
Deserve Mastercards are issued by Celtic Bank, Member FDIC.
Enjoy Mastercard Platinum Benefits intended to make your life easier like Mastercard ID Theft Prevention™ and Master Rental®.
Rates, Fees & Offers
Annual fee $0
Rewards rate 1%
Bonus offer None
Intro APRN/A
Ongoing APR Purchase: 20.99%, Variable (July, 2022)
Foreign transaction fee None
If these perks sound good to you, get to it! Apply for a Deserve Edu MasterCard today and start building your credit now!
No Responses to "You Deserve to Have Good Credit"
Leave a Reply