Posted on November 15th, 2019 by Connor Blay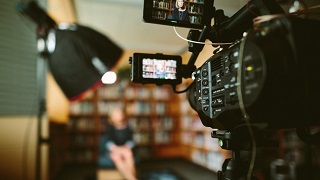 Are you arts and media driven? Well, we have some great news! The University of Colorado Denver is well located, right in the heart of Denver where the arts industry is booming! International students can choose to study within CU Denver's College of Arts & Media (CAM). CAM is built for the driven creative and innovative students who are interested in starting a career in the arts and media industry. CU Denver CAM offers four degrees and programs within the college as follows:
Film & Television
Media Forensics (Master's)
Music & Entertainment
Visual Arts
Each of the degree programs provides individual students with a unique skill set that will give them the foundation they need to succeed in the respective arts and media industry. CU Denver's CAM staff is knowledgeable and experienced in the field. They will guide students to obtain their degree and help find a career in the industry after graduation.
CAM at CU Denver provides hands-on real-world experience for students across the four areas of study as they simultaneously earn their degrees. Faculty within CAM are accomplished leaders in their fields and provide students with valuable insights and training that students need to succeed. Students will also have access to cutting-edge technology that is used by industry professionals alike. CU Denver CAM provides a variety of opportunities to work with professionals within the industry. Students will be able to make relationships with their peers and professionals. In a networking-based industry, it is important to make these kinds of connections to ensure job placement after graduation.
Graduates from CAM go on to make major achievements in their respective industries. Alumni have had the honor of winning Emmys as well as working with large companies and artists. Alumni have worked with companies that include:
Apple
Pixar
AEG Live
Google
Comcast
Rolling Stone
HBO
NBCUniversal
Disney
They've also gone on to perform on the international stage with some of the most popular artists in the industry like The Fray.
If you're a driven and focused creative individual, then CU Denver's CAM might be for you! Learn more about studying at the University of Colorado Denver College of Arts & Media as well as other degree programs!
2 Responses to "Study Arts & Media at the University of Colorado Denver"
Ma. Rizelle S. Mondero Says:
November 18th, 2019 at 11:45 pm

Hi! This course truly captured my heart! I would like to reach my shooting star on this opportunity to have me that is really one of my ideal job as to unleash my potential ideas in the world of Arts and Media! Hoping for a your positive response! Thank you!

Connor Blay Says:
November 19th, 2019 at 9:00 am

Hello! So glad to hear that you are interested in the college! If you would like to learn more about The University of Colorado Denver College of Arts & Media please visit their profile. Here you can read more and request more information about the university. Best wishes!
Leave a Reply