Posted on May 25th, 2018 by Rachel Rollins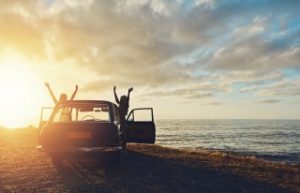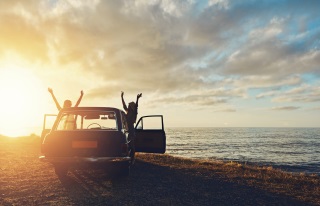 Do you ever just want to get out of town? Hit the road and explore new cities? If you're an international student living in the US go out and explore this amazing country! One of America's greatest pastimes is going on a roadtrip. Roadtrips allow you have the freedom to drive anywhere and see sights you wouldn't expect to find. Some of my best memories from school are with all of my friends packed into a car and driving off to a new city. As international students you should have the best memories too! Here are some reasons why you should take a roadtrip!
Lower Cost To Travel
Depending on where you're traveling, driving to your destination may be less expensive than flying. Before you decide to take a roadtrip calculate the difference between flying and driving. Consider how long you'll be in a car versus flying, how much luggage you plan on bringing and if you'll need a car once you arrive to your destination. In some cases a cheap quick flight beats hours in a car ride, but a few extra hours in the car could save you a lot of money. Either way it's good to know your options before you start planning.
There are many cost benefits to taking a roadtrip with your friends. The first is splitting the cost with your friends! From gas and lodging to food you can split all of these cost. With less expenses to worry about you can focus more on having fun! A great way to keep track of all of your expenses is an app call Splitwise. You can create a group and keep track of who owes money to who in a fair way.
Your car is more than just a means of transportation, it's also a vehicle to carry all of your necessities. Roadtrips give you the freedom to bring as much as you want on your trip including food, camping gear and as many other supplies as you need! This means you don't have to worry about buying food and supplies once you're there. Be mindful that you are sharing a car, so plan with your friends what to bring.
Flexibility  
When you're on the road the world is your oyster! You can drive anywhere and change plans at any second. While driving you'll pass through many different towns and landscapes that the US has to offer. Even though you'll have a destination make sure you take some time to visit stops along the way. From state to state, you'll find something unique about all of them.
One app that can help you navigate is called Waze. Waze helps you plan a trip and offers different routes. The app also notifies you about upcoming traffic along your route.
Have you ever traveled and encountered bad weather? Experiencing a new place when the weather is bad can put a damper on the entire trip. When you're taking a roadtrip you can change your plans. You can travel opposite of the rain. That's one of the great things about taking roadtrips, with a car you don't have to be stuck in a city but can change plans.
Friends
The best part about roadtrips are the memories you'll make with your friends! While driving, you'll spend many hours in a tight car. Some ways to make the ride more enjoyable is to create a fun song playlist that you are your friends can sing to. You can also play games to help pass time. Some fun games to play while on the road are 21 Questions, I Spy and Word Association.
If you're considering taking a roadtrip this summer here are some of the most popular routes in the US. Remember to plan your trip in advance and to use a dependable vehicle. The most important part is to have fun, you'll be making the best memories of your life.
One Response to "3 Benefits to Taking a Roadtrip as an International Student"
daniel jessica Says:
August 14th, 2018 at 5:59 am

Hello Rachel Rollins thanks so much for this post now i know what to do this post best describe what am going true and want
Leave a Reply