Posted on February 2nd, 2018 by Connor Smith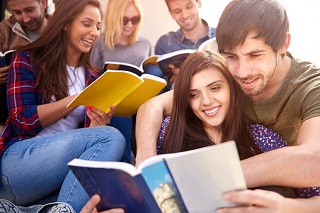 Figuring out which school is right for you can be a lot of pressure, but it doesn't have to be. With thousands of schools to choose from it can be easy to get caught up in overthinking your options. You may end up making some mistakes when it comes to how to choose your dream school. While there isn't an exact science to picking your future school, you can save your time and sanity by following these five useful tips.
Consider Location
Location, location, location! The US is a large and diverse place with 50 unique states. Each state not only differs in geographic location but also in climate, culture and the cost of living. You have to consider where you think you would be happy living and the opportunities that area could provide. If you hate the cold and big cities then maybe a place like New York City wouldn't be for you. If you love warm weather and being on the coast then you could consider life in sunny California.
Keep in mind that the United States is vast and includes more states than those you're already familiar with- like New York, California, Florida and Texas. There are a lot of places you probably haven't heard of but are definitely worth checking out. Many places in the US offer a lower cost of living so you can save money on daily expenses and use it for travel.
From the mountains of Colorado and the southern hospitality of Mississippi to the deserts of Arizona, the US has many places to choose from. You can find a complete list of states within the US and detailed information on each one at our USA State Guide. This guide will give you insight into what your future could be like in the US.

Know What Type of Degree You Need & What Which Schools Offer It
Depending how far along you are in your studies, only certain schools may have the degree you need.. If you finished your high school or equivalent education then the next step could be your associate's degree or bachelor's degree. If you already completed your bachelor's and think you need more schooling you could pursue your master's or doctorate.
It's important to know the different degree options before making your decision on the type of school you should attend. Deciding what kind of school, whether you're studying for one semester or for many years, is an important decision. The kind of academic and social experience you'll have studying in the US changes dramatically based on the type of school you chose.
Each school comes with their own unique benefits. Here are a few of the main types types of schools for higher education in the US:
Community College – These schools typically offer a two-year associate degrees for a lower cost, sometimes half the cost of a public university. In recent years many schools are now offering four-year bachelor's degrees for a wider variety of programs. This is something to consider if you're looking for an affordable US education. 

Once you earn your associate degree you can transfer to a four year university to finish your final couple years of schooling for your bachelor's degree. If you're unsure of  committing to being an international student in the US then this less expensive two year option may be perfect for you!
Public University – Each state is home to a "State University" system with a number of public schools. State schools are usually larger in size ranging from 10,000 students upwards to 60,000 students! Due to their large size these schools have opportunities for you to be a part of student activities, clubs, sports games, greek life and much more. Here you can pursue your bachelor's, master's or even your doctoral degree.
Private College – The US is home to privately run schools as well. These schools are usually a bit smaller with less than 10,000 students but can also be large to upwards of around 30,000 students. An advantage to these schools is usually having smaller class sizes and more face time with your professors. However these schools tend to have a higher price tag and may not be for you if you're looking to save some money. Like public universities you can pursue your bachelor's, master's or doctoral degree.
If you're an international student who needs a little extra help increasing your English language skills then a pathway program, or a bridge program could be right for you. You'll take English as a second language (ESL) courses while also taking classes that count towards your degree. These programs typically last around a year and the college or university it's affiliated with will offer a "conditional acceptance" pending successful completion of the program. Have pathway programs on the brain? Here is our list for a few pathway programs in the US. 
Carefully Choose Your Major
Your major is the first step in helping you find what your future career will be. Some things to consider when choosing your major are your personal interests, the average salary in that field and what jobs are possible within the industry. .
Take your time when deciding what your major will be. Read up on what career options you'll have within your major. If many of those options sound appealing to you then you've probably found the major that is right for you.
Don't Rely On Reputation
Every school in America has some kind of reputation. There are party schools, small private ones, sports centric, academic focused, just to name a few of the school stereotypes. No matter what you hear through the grapevine about the schools you are thinking of attending you must also make your own judgement.
You can hear about a school's reputation a lot of different ways. By reading over their website, social media channels, or even by reaching out to past students. If you have friends who have attended that school you can ask about their experience. It is important to keep an open mind and not to believe everything you read or hear. Value others opinions but ultimately you'll find the school of your dreams by making your own decision!
Visit Your Future School
After you've completed some applications and have an idea of which schools you've been accepted at you may want to plan some visits. The best way to get a real feel for a college is by seeing the campus and interacting with fellow students. Most colleges have campus tours where you can get to know the campus on a personal level to make your decision that much easier.
If you're unable to physically attend a campus tour, their is some other options for you. Look into taking a "virtual tour" online or inquiring about having a one on one conversation over Skype with an admissions representative.
Now you have some ideas what it takes to choose a school in the US. Take that first leap by searching through our USA School Search and filling out your information once you've found a school that is right for you!
5 Responses to "5 Tips On How to Choose a US College"
Leave a Reply