Posted on October 27th, 2017 by Rachel Rollins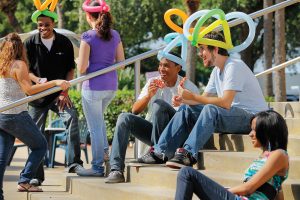 Last week we had the great pleasure of visiting Valencia College at their campus in Orlando, Florida! After talking with Talia, Director of International Student Recruitment at Valencia College, and May, a current international student from Brazil, we learned why students at this community college never want the ride to end!
To help you catch-up, here is quick summary of everything we covered. You can also watch the video below.
Student Life
It was clear after meeting May that she loves going to theme parks with her friends! One of the coolest things about Valencia College's location is that it's close to the world's best theme parks such as Walt Disney World and Universal Studios. In fact, May told me that this month she and her friends went to Universal Studios thirteen times!
But there is so much more to Orlando, Florida than sunny weather and theme parks. May said that the city is filled with diversity. No matter where you are from you'll find something that connects you to home, like food!
Affordability and Financial Aid
One of the biggest benefits of going to a community college is that they're far less expensive than a traditional four-year college. As Talia explains, your tuition at Valencia is forty to fifty percent less than the tuition at a public university.
If you're worried about paying for school, Valencia has a convenient payment plan option. Talia explains that students don't have to pay their tuition upfront but can choose to spread out their payments either by semester or month. You can also work on-campus to help pay for some expenses, like May does!
There are also many scholarships available to help their international students pay for college. The International Linkage Institute is a scholarship that lets international students pay in-state tuition rather than the out-of-state tuition rate that's more expensive. There's also scholarships available that you can apply for once you're a student at Valencia.    
Building Your Resume
Talia explained that community colleges are known for serving the community's businesses and industries. Because of their partnership with the community the professors at Valencia have experience and connections within businesses in and around Orlando. These connections have helped many students at Valencia get internships or involved in volunteer work.
May says that the first thing you need when you apply for an internship could be a letter of recommendation, and the first person that you'll ask will most likely be a professor!
Another way to build your resume is getting involved on-campus. Valencia has over sixty different clubs on campus, and can help you develop your resume even further. May is part of the biggest club on campus, Visa Club!
For most students, after you graduate and finish your two-year degree at Valencia, you can do optional practical training (OPT). After, when you transfer and graduate from a four-year college you can do a second OPT. You could work twice during your time in the US!
Transfer to a Four-Year Degree Program
Valencia makes sure that after you graduate you will successfully transfer to one of the twelve state universities in Florida. As Talia explains in the video- you have many options after you graduate from Valencia, like choosing to study in a different state. The most popular option is Direct Connect into University of Central Florida. This program guarantees 100% admission into UCF, one of the largest schools in the US, after you graduate from Valencia.
English Language Program
If you're not quite ready to study in college, Valencia has year-round Intensive English Language classes for all types of English learners. Based off your English language skills they will place you in the appropriate English class. These small class sizes have convenient hours, and the length of the program can be as short as one month to two years.
Valencia College is the start to an amazing ride, as May explains, by the end you want to get back on! At Valencia, you're not just going to school but you're part of a community that offers endless support and opportunity. Come see why over 12,000 international students choose Valencia College!  
2 Responses to "Why More Students Are Choosing a Community College"
Jatta bah Says:
November 1st, 2017 at 10:24 pm

I am looking forward to be a student to your great institution basses on the fact you had stated. I am college graduate with a PTC holder and I have taught for five years as a teacher teaching in the primary school, I there look forward to upgrade myself and I will very grateful if I am considered. Thanks

saurabh Says:
December 14th, 2017 at 4:13 am

Thank you for this wonderful information.
Leave a Reply