Posted on October 6th, 2017 by Connor Smith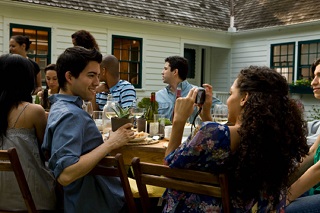 When making the decision to study abroad or travel deciding where you will stay should be at the top of your list. One of the best ways to really experience a culture is by doing a homestay program.
What is a Homestay?
Homestay program companies arrange for you to live with local hosts or families during your studies. Homestay programs can vary from renting a room to full immersion with your host family. With a homestay program you usually have your own room and join the family for meals and be a part of their daily routine. Most homestay accommodations usually have children since they want their children to meet international students and get exposure to a different culture.
The American Homestay Network
While there are a lot of options for finding a homestay it's important to research companies and find one with a great reputation. We've partnered with the American Homestay Network (AHN),  who you can count on to place you in a safe and comfortable environment and help get you settled into the American way of life.
Setting up your homestay through the American Homestay Network (AHN) offers a guaranteed private bedroom, internet access, and a meal plan. In addition to the support of your host family, you will also be assigned a local homestay manager, who will provide backup support through a 24/7 emergency phone number.
Why should you do a Homestay?
There are quite a few reasons why doing a homestay is a great accommodation option. Homestays are helpful for orientation, value, cultural experiences, language, making friends and for safety.
Orientation
Your homestay host will be able to assist you when you get to the U.S. with things such as transportation, shopping and banking. This will make your orientation smoother and have less to worry about. 
Cost
Host families aren't typically looking to profit off your stay with them and the cost is typically lower than getting your own apartment or living in the dorms. You'll get the full American cultural experience by living among actual Americans to give you a truly local experience.
Language 
If you want to improve your English skills then communicating and living with English speakers will drastically improve your vocabulary! Your host family will be happy to help you improve your language skills.
Friendship
Oftentimes your host family will have other children possibly close to your age that you can make friends with. This will help you to more easily assimilate into the American culture.
Safety
One of the most important things is your safety. Your host family will make sure you make it home every day and to provide you with emotional support.
If you are looking for the full experience when living in the U.S. then a homestay may be the perfect option!
7 Responses to "Find a Homestay Program in the United States of America"
Leave a Reply