Posted on May 12th, 2017 by Connor Smith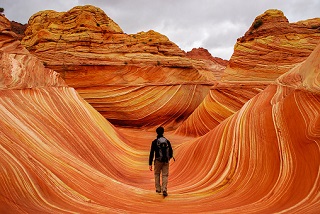 If you're looking for somewhere in the U.S. to continue your education, do it at Arizona State. The Arizona State University (ASU) Global Launch program is designed for international students to take their English abilities to the next level while getting a real American college experience. Located in the city of Phoenix, Arizona State is one of the largest universities in the country with over 50,000 students. Having a large student body opens you up to meeting more people and creating friendships with students from over 160 countries. 
The Global Launch program has over 22,000 graduates spanning over the past 40 years and counting. This program gives students a chance to take Intensive English language classes and receive a TOEFL waiver upon completion of the program!
How does Arizona State differ from any other Intensive English Program? The ASU-USA Pathways Program is what really sets this program apart. What does this program mean for you as an international student? The ASU-USA Pathways Program allows international students interested in obtaining their undergraduate degree at Arizona State or any other U.S. university to do so. In addition to taking your Intensive English courses you'll also earn 24 – 25 actual academic credits that can be put towards a degree at Arizona State or other accredited US colleges and universities. You'll also have the following social perks:

Make friends easily with planned activities and living on-campus.

Take English & Writing courses with fellow Arizona State international students.

After two or three semesters take freshmen level courses with American students.
In addition to the learning and social aspect of the Arizona State Global Launch program, Arizona and the city of Phoenix have tons of places to explore. These are just some of the breathtaking destinations nearby:

The Grand Canyon – a natural wonder carved out by the mighty Colorado River and is often referred to as one of the "Seven Wonders" of the natural world.

Lake Powell – One of the largest man-made lakes in the United States.

Jerome – an old mining town which is now a ghost town (oooh spooky)! Take a step back in time to the 1920s.

Antelope Canyon – the famous eroded red rocks which look like spirals and brilliant shades of red and orange.

Desert Botanical Garden – 140 acres of botanical gardens located in Phoenix with over 21,000 plants and more than 4,000 plant species.
Studying in Arizona opens you up to a future of continuing your education in the U.S. and to exploring natural wonders surrounding your new home!
Leave a Reply