Posted on May 5th, 2017 by Rachel Rollins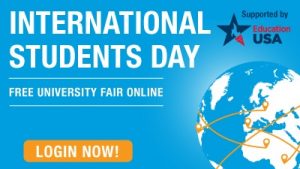 As an international student it can be difficult to try to get in contact with the school that you would like to attend. Luckily, International Students Day is a free online fair just for international students that want to talk to US colleges and universities. During this event you will have the opportunity to learn about more than 100 different US colleges and universities. You will also have to chance to talk to representatives from the school and learn how you can apply. International Students Day is on May 10th click here to reserve your spot!
How it works:
Similar to a school fair the online fair has an online page or "booth" designated to that school. As soon as you visit a school's booth you can view pictures, videos and important documents like the application. The most important feature is the online chat capabilities. At all times during the fair you can talk with someone from that school. You can choose to either have a personal one-on-one chat or you can join in the group conversations and read what other students are posting.
Why you should attend:
Over 100 different US colleges and universities will be at the fair! You'll have the chance to talk to some of the best schools in the US like UC Berkeley, Syracuse, Notre Dame and New York University.     

The fair is free to attend! Most school fairs come at a price to attend so the invitation to meet this many schools for free is a rare opportunity.

The fair is online all day! If you find yourself with some free time on May 10th why not pop online to explore the fair and meet some schools.

There are a lot of tasks that international students need to check off before they can study in the states, at the fair you'll learn how to tackle some of them like how to get funding, how to prepare for your English language exam and student visa information.

Win $5,000! Seriously, if you visit 5 different schools during the event you'll have the chance to win a $5,000 scholarship. How easy is that?
How you can prepare:
After you've registered for the online fair make sure you mark the event in your calendar so you don't forget! You should view the list of schools attending the fair and pick a handful that you really want to talk to. You'll be browsing school's during the fair but it will be good to have a goal in mind. A few goals you might want to add to your list include:
Finding schools in a certain state you want to study in


Getting started on college applications

Learn more about the application requirements for certain schools
Coming up with goals, and making a list of questions to ask along with what schools you want to talk to will help you make the most out of your International Students Day online fair.  
No Responses to "Sign Up to Join the International Students Day Online Fair"
Leave a Reply