Posted on March 10th, 2017 by Rachel Rollins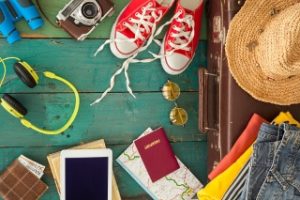 It's almost time for your Spring break! By now you're well into your Spring semester and need a break from being in the library all day. Spring break is your time to relax and enjoy the beautiful weather, but sometimes the cost of going on a trip can feel more like a big headache.
Some of my best memories from college are from spring break! The long road trips, cramming into a hotel room with too many friends, and eating sandwiches for every meal- I wouldn't change a thing! I learned how to have fun but travel on a very tight budget, and you can too! Here are my Spring break on a budget tips:
The more the merrier
Whenever I traveled during Spring break it would always be with a large group of friends. The more people in the group, the cheaper the trip. This really helped us all save money on gas and accommodations. With a large group, my friends and I were able to travel further away and rent a bigger place to stay because of the money we saved by splitting the cost.
Be flexible with flying
When it comes to picking flights it can be a little tricky to save money. By shopping around through different airlines and even looking at different airports I saved a lot of money. I used StudentUniverse to shop for flights because they gave me a great student discounted rate for flying. Airports that were in nearby cities were sometimes more affordable to fly out of  than using the closest airport. I also chose flights that had long connections  instead of choosing a direct flight. One time I found an inconvenient flight but booked it because it was so cheap, what a rush!
Homey hostels
While hostels in the US are not popular like in other parts of the world, there are many hostels in cities across the US, and they can be surprisingly nice to stay in. A bunk in the US can cost you $20 to $50 a night compared to a hotel room that can cost you hundreds of dollars! If all you need is a bed for your trip you should consider to stay in a hostel.
Snacks and sandwiches
For me, the best part about traveling are the different foods to try, but eating out is an easy way to drain your wallet! Traveling makes me hungry, so I always have snacks on me like crackers or fruit to keep me energized. I usually go to the grocery store when I've reached my destination and buy food that I know will fill me up. I save money because I am not eating out for every meal but instead eating my snacks and sandwiches!
Staycation
The best way to save money during Spring break is to stay on-campus or at home. Staycation is a vacation spent at home and involves fun local activities. A staycation is a great way to enjoy your Spring break on a budget! You can relax around the house, watch movies, read books that you've been putting off, explore your city or visit local attractions. Sometimes the best things are at home and you will save a lot of money doing so.
Whatever trip you plan during your spring break you can still have fun and save a few bucks here and there.
No Responses to "Your Spring Break on a Budget"
Leave a Reply