Posted on October 17th, 2016 by Bryanna Davis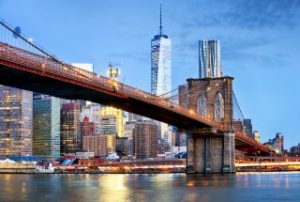 If you are an international student looking for ideas regarding where to study show production, you should consider New York City. New York is home to over 8 million people from all over the world, and the perfect home base for your time in the United States.
The Tisch School of the Arts at New York University (NYU) is one of the top show production and performing arts schools in the US making it a great place to study show production as an international student. With programs in film and television, drama and recorded music, you will receive a first-rate education in your field of interest. The Steinhart School of Culture, Education, and Human Development offers courses of study in media, culture, communications, music business and music composition. The state-of-the-art facilities and program details include the school's very own record label: Village Records. However, NYU is only one of many colleges and universities in the city. You'll find yourself in close proximity to many of the nation's top show production schools here.
Outside of the classroom, students have easy access to some of the world's best shows with Broadway, Madison Square Garden, Radio City Music Hall and countless other music and theater venues. International students have many opportunities here to witness the world of live production and see if they have what it takes to make it in the show production industry.
Want a location that has more to offer than just somewhere to study show production? You'll never be bored in New York. International students can escape the busy city streets and challenging schedules for Central Park, a quiet haven amongst the never-ending hustle and bustle. Here you'll find jogging paths, quiet lakes, places to lounge around and iconic ice skating rinks in the winter. The big apple has something for everyone, you can check out New York's professional sports teams which include the Yankees and Mets for baseball, the Knicks for basketball and the Giants and Jets for football. Not interested in sports? Stroll the streets of the Fashion District and visit one of many markets throughout the seasons.
New York is the city that never sleeps. Come see it for yourself while you check out where to study show production to find a top show production school.
No Responses to "Where to Study Show Production: New York City"
Leave a Reply