Posted on September 23rd, 2016 by Bryanna Davis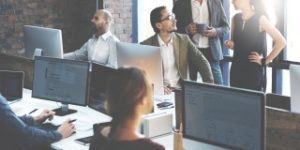 If you're an international student wanting to pursue business- you're not alone. For colleges and universities across the United States, business is, well, big business. Not only is a business degree sought after by domestic students, but according to the Institute of International Education's most recent Open Doors data on international students– it is also a popular choice among international students as well. Nor is this an outlier; business has led the charts for more than a decade and today more than a fifth of all international students are pursuing that major. This, coupled with the fact that international students represent the fastest-growing segment of applicants at colleges and universities nationwide means that a growing number of schools are catering to this eager (and lucrative) market.
On Land
Some educators and administrators, however, are more successful than others. Take, by way of example, MBA programs. A recent U.S. News and World Reports study found that the while the average international student MBA program enrollment was 32%, the ten schools with the most international students had, at 63%, nearly twice as many. Unsurprisingly, given the state's popularity among international students in general, it was a California school that led the pack. What is downright astounding, however, is how close the competition was: while some 78% of the University of California at Riverside's MBA students were not from the US, the Whitman School of Management at Syracuse University, with 68%, was close behind.
Online
No longer are brick and mortar schools the only ones working to capitalize on this trend. In response to such high demand, a growing number of schools are offering online graduate business programs to students who are unable to relocate to a different country to study. If you're interested in studying business you can view further information here.
No Responses to "Business Schools are Big Business with International Students"
Leave a Reply