Posted on August 8th, 2016 by Sutherland Beever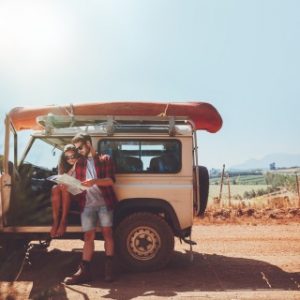 The experiences you gain from traveling may be unforgettable, but they certainly aren't free. Because traveling can be so expensive, many people don't think they can afford it and miss out on trips that could have blossomed into beautiful memories. As a current or aspiring international student we know that you aren't afraid to travel, but odds are, you could use a few tips for saving some money when doing so!
Here are a few clever tips for traveling cheap in the U.S.
Tip #1: Don't Follow the Crowd
There's no denying that it's popular to visit the Disneyland in the middle of summer and the ski slopes of Colorado in the winter, but traveling during 'peak seasons,' or these popular times of year, will make your travels noticeably more expensive. Not only do gasoline prices typically skyrocket during these times, but popular tourist destinations and even nearby hotels will raise their prices when they know people are more likely to travel.
Not only will you have more money in your pocket to spend if you travel during less popular times (the beach is still beautiful in the fall or winter), your destinations will be much, much, much less crowded – helping you enjoy your trip even more!
Tip #2: Weigh your Transportation Options
There are so many options for getting around in The United States! Between cars, buses, trains, planes, and more, researching the right mode of transportation may seem a little overwhelming, but doing a little research now can save you a lot of money to put towards food, lodging and souvenirs later!
The Car: The easiest and most popular way to get around is to drive. Driving your own (or rented) vehicle will give you the opportunity to travel at your own speed and stop for photographs or picnics as much as you'd like! Beware that you generally need to be at least 21-25 years old to rent a vehicle – and have to have a valid driver's license, of course – but it can put less wear and tear on your own car, depending on where you're vacationing. You can also check into car relocation services that allow you to drive someone's car to a particular city (usually for free!).
Public Transportation: If you're in a big city public transportation may be a better option because you don't have to pay for parking – presuming that you're able to find a spot. Research public transportation options in advance and consider getting a pass that will last you the length of your trip so you don't have to worry about individual charges. Bus companies such as Greyhound and Megabus generally offer transportation starting at $1, especially if you book in advance and for unpopular days (remember tip #1?).
Airplanes: Flying is usually the most expensive option, but also the fastest. If you prefer to fly, consider booking at least three weeks in advance and fitting everything you need in a carry-on bag to ensure you don't have to pay for checked luggage. If you are traveling to an ultra-popular destination, like Las Vegas for example, it's common to find flights from nearby cities for ridiculously cheap – some companies even offer combination packages, which include the flight and hotel room for one low rate.
Tip #3: Weigh your Lodging Options
Hostels are hard to find in the U.S. and most hotels will run you $70 to $130 a night. Because of this, some people have seen that renting an apartment or a house for a short period of time can be more cost effective than staying in a hotel. Best of all, this option will give you a kitchen so you can save on going out to eat.
If a traditional hotel isn't your cup of tea, you can also try couch surfing. If you do this safely, you can meet locals close to your own age who will not only let you stay at their place for free, but can also tell you how to have a budget friendly stay in their city. If you are feeling a bit rugged, there are also many campsites in the U.S. that will let you stay for as low as $5, but make sure you have a tent. Most of these sites will provide a grill, bathroom and shower room, but renting a tent can be an added fee that wasn't accounted into your original travel budget.
Tip #4: Ask locals about "free days" or "discount days"
One of the arguably best things about being a college student is all of the discounts that you can have on everything from meals to movie tickets. Americans love to get and give discounts, so whenever you're traveling be sure to ask if there are student discounts – it never hurts to ask!
It's also common for local establishments and entertainment hubs to have "free" or "discount" days. The town ice cream shops, for example, could offer 15% off on a certain day as a form of customer appreciation, or a local museum may even waive their admissions fee on particular days of the month.
Do you plan on using any of these tips in the future or have any tips of your own? If so, let us know in the comments section below!
No Responses to "Tips for Traveling Cheap in the U.S."
Leave a Reply