Posted on June 20th, 2016 by Sutherland Beever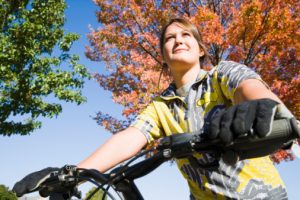 If you are a fan of the great outdoors, you will be a huge fan of our list!
New Hampshire may be known for having quaint towns and a peaceful atmosphere, but that doesn't mean there isn't adventure to be found in the Granite State. Whether you're looking for a tranquil atmosphere or an adrenaline rushing experience, there are plenty of places to see and things to do in New Hampshire.
To start things off easy, we've listed some fun ideas you can do with your feet on the ground, but by the end your head could be above the clouds!
"Ground Level"
If heights aren't for you, that's okay. There are countless things you can do in New Hampshire that would never cause you to put on hiking boots.
Lake Winnipesaukee: With water parks and beaches, having fun in the sun is easy at Lake Winnipesaukee and the Lakes Region. Enjoy waters sports, sailing, and fast food at this popular family attraction.
Clark's Trading Post: This family-owned attraction offers a trained bear show! Yes, you read that right. Trained bears. Here you can see real live bears ride scooters, shoot basketball hoops, balance on barrels, and more, so be sure to have your phone fully charged to get some great pictures.
Drive-In: Experience the history of an old-fashion drive-in theater. These popular attractions once littered the United States, but now they're few and far between. A simple Google search can give you the address to a drive-in theatre in Milford, Weirs Beach, and Hinsdale New Hampshire.
"Going Up"
In New Hampshire it can be a little too easy to find yourself at 6,000 feet in the sky and see the world with a new perspective. A popular to-do in New Hampshire, the mountains offer some unbelievable scenery
Mount Washington's Cog Railway: Since 1869 the Cog Railway has been carrying passengers to the top of Mount Washington's 6,288-foot summit. Adventure seeking passengers brave enough to take the train get a view spanning four states (weather permitting, of course). If you feel like making a day of your adventure to Mount Washington, there is also a museum, cafeteria and research observatory.
Mount Monadnock: This mountain can be climbed in a day, making it one of the world's most climbed mountains. After gathering the necessary equipment. Hikers can choose to hike one of the five main trails to find beautiful views and scenery.
Ski Resorts: With six mountain resorts in Mount Washington Valley and one of the first ski resorts in America, North Conway, there are plenty opportunities for people to ski, sled, and ice skate. If you feel like taking an adventure in the summer or fall, these resorts offer other activities, such as swimming, hiking, and railroads.
Castle in the Clouds: This massive mountaintop estate overlooks the Lakes Region and is one of the state's premier tourist attractions. As a popular destination for 'fairytale' weddings, guests can stay on site and enjoy meals practically in the clouds.
"Sky High"
Now that you've gotten through the easier attractions, let's bring on the most challenging ideas on our list. But don't worry, hiking mountains and riding trains are not the only reason to be thousands of feet in the air in New Hampshire.
Morningside Flight Park: This flight park is a great opportunity to go hang-gliding and paragliding. For those who are not into flying, there are dozens of other fun activities to consider, such as zip lining, kayaking, laser tag and camping.
Barnstorming: For the bravest of the bunch, ride in an open-cockpit biplane and allow the wind to hit your face and breathe in the view of New Hampshire's largest lake, Lake Winnipesaukee.
High 5 Ballooning: Have you ever been in a hot air balloon? If you are a fan of heights, it's easy choice to ease your way into the sky in a 90-foot balloon at sunrise. When your ride is finished, enjoy the crisp weather with a mimosa and picnic!
See what New Hampshire has to offer on the ground, or defy gravity and explore New Hampshire in the sky. Discover a peaceful atmosphere and breathtaking scenery, or find the thrill of adventure that is close to your heart. Though the state may be small, the opportunity is great!
No Responses to "Places to See and Things to Do in New Hampshire"
Leave a Reply